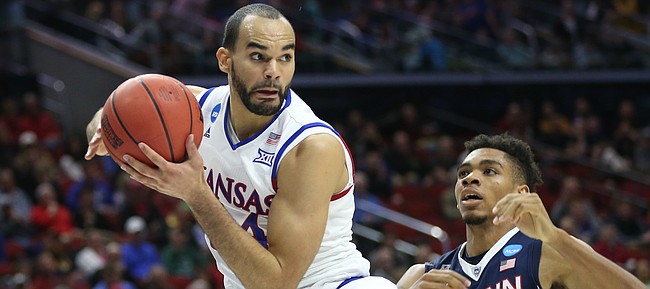 Des Moines, Iowa — Kansas senior forward Perry Ellis banged knees with a UConn player during the Jayhawks' 73-61 second-round victory Saturday at Wells Fargo Center, and left the floor limping early in the contest.
KU fans were relieved when Ellis was back after a minute or so on the sidelines.
"I just bumped knees," Ellis said. "I knew it wasn't anything but that and I got back in the game as quick as I could. I wanted to be out there."
Noted Selden: "What went through my head is, I saw it and I go, 'Oh, shoot.' I didn't say it like that, kinda said something different, and I go, 'What happened?' And he said, 'I bumped my knee. And I go, okay, you're fine!'''
Relatives matter: Selden on playing well when his Uncle Anthony is in attendance, as he was Saturday:
"I guess he has to keep coming. I don't know, just being out there and being aggressive, I got a great group of guys around me and it's easy when you got it like that," Selden said.
Ellis on advancing to the Sweet 16 after losing in the second round the last two years: "There was a lot of motivation from last year, that feeling that we had and we just want to continue to play the way we are and have fun and take it game by game."
Self on KU leading 18-5 early and 44-24 at half: "Well, it was great to get a big lead. We were really, really, really good the first half. I thought both ends we defended, we rebounded, we put pressure on the defense, and of course it helps when you make shots. But that was good first half. Then second half we didn't do very many of the same things that we accomplished the first half. We became very passive," Self said.
Podcast episode
Kansas basketball coach Bill Self, as well as Jayhawks Perry Ellis and Wayne Selden Jr., answer questions from media members following the Jayhawks' 73-61 victory over Connecticut, which advanced KU to its first Sweet 16 since 2013.
Good board work: Self liked his team's work on the boards. KU outr-ebounded UConn, 44-24.
"They had 41 misses and get five back," Self said. "I thought our guys did great job defensively on the glass (36 defensive boards)."
Milestone: Ellis passed Kirk Hinrich and Dave Robisch to move into ninth place on the KU career scoring list. He's one point shy of Paul Pierce, who is eighth. Ellis has 1,767 points.
"It's an honor just to know that, but it's still something I'm not worried about. I just want to continue to try to win and go from there, and after the season whatever happens, happens," Ellis said.
Chat with team: Self called a timeout when UConn sliced a 24-point deficit to nine in the second half. KU responded with an 8-2 run.
"I think we called a couple of plays, but the first one was the biggest one. They were zone and Perry made about a 16-footer right from the free-throw line in the middle of the zone," Self said. "So that to me was the biggest shot of the game if there was a biggest shot. Then we got a couple of baskets right after that. Landen (Lucas, six points, 12 boards) made a great pass to Perry, if I remember right, for a dunk and Wayne had a couple of driving baskets that were pretty strong. Somehow the guys rallied around it and were able to piece it together and make enough plays to win by double figures."
— See what people were saying about Kansas vs. UConn during KUsports.com's live coverage
---
More news and notes from KU's win over UConn
---
---
---