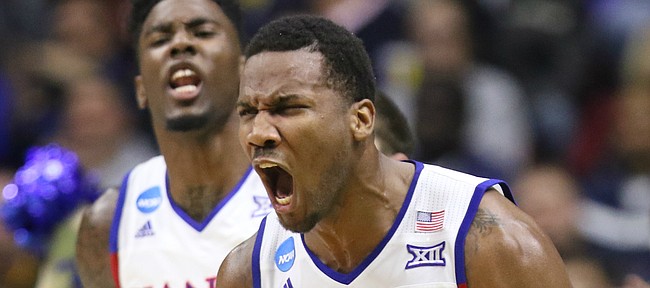 Des Moines, Iowa — Devonté Graham raced full speed downcourt, and after passing Kansas University's bench, cupped the basketball and lobbed it in the direction of Wayne Selden, Jr., whose acrobatic one-handed flush with 1:31 left proved to be the exclamation point in the Jayhawks' 73-61 second-round NCAA South Regional victory over UConn on Saturday night in Wells Fargo Arena.
"D-tay has such swag. The way he carries himself so confidently — the swag, it's unbearable," Selden said with a smile after scoring a game-high 22 points and playing sticky defense on UConn standout Daniel Hamilton, who was held to 11 points off 4-of-14 shooting.
"With point guards like that, it's easy. All I have to do is run," added Selden, who along with Perry Ellis (21 points) and Graham (13) provided most of the offensive punch in a game that propelled the (32-4) Jayhawks into Thursday's Sweet 16 battle against either Maryland or Hawaii.
Selden, all KU fans are aware, isn't lacking in the "swag" department himself. 
The 6-foot-5 junior also dunked off a feed from Landen Lucas on a day Selden hit eight of 15 shots, including two threes in five tries.
His dunk, off the Graham lob, however, is the one that thrilled a crowd of 16,824 that included Selden's Uncle Anthony Pitts, who presumably was as excited on this dunk as the one against Baylor in the Big 12 tournament.
That's the dunk in which Selden went coast-to-coast, finishing a one-handed jam after driving the lane, the TV cameras showing his uncle rip off his hat in the stands while rejoicing.
"The one against Baylor was better," said Graham, who had five rebounds and two assists on a day Frank Mason III struggled to the tune of eight points off 1-of-8 shooting with four assists, four turnovers.
Podcast episode
Kansas basketball coach Bill Self, as well as Jayhawks Perry Ellis and Wayne Selden Jr., answer questions from media members following the Jayhawks' 73-61 victory over Connecticut, which advanced KU to its first Sweet 16 since 2013.
"That one was on somebody (Ish Wainright). This one he just took off (on lob). This may be second," added Graham, who acknowledged the lob "was perfect. I threw it right over his (defender Jalen Adams) fingers."
"Well, this one means more, so I'll rate this one over it," Selden said. "At the end of the day, these (dunks) are more important now."
Yes, this dunk came on a day the Jayhawks — thanks in part to Selden and Ellis' 25 first-half points that helped KU grab a 44-24 halftime advantage — exorcised some demons of sorts. KU had lost in the second-round the past two seasons.
"I'd be lying if I said it wasn't," Selden said of KU's second-round failures being something on his mind. "This is where we tripped up the past two years. To get over this hump is good. We're happy, but not satisfied with this."
Selden said the Jayhawks, who rolled to a 40-16 lead following a 19-0 run, were fired up for this one.
"This is a hungry group. We really want it," Selden said. "I look around the locker room and see it in everybody's eyes. The focus."
UConn (25-11) didn't give up, actually cutting the deficit to 50-41 with 9:32 left. That's when Selden and Ellis came through again. Ellis hit two free throws, then Selden hit a five-footer and eight-footer on ensuing possessions, Ellis concluding an 8-2 rally with a dunk that gave KU a 58-43 advantage.
"Aaron Miles (staff member and former KU guard) always tells us to play off two feet. I played off two feet on both of those (jumpers) so I'd be more under control," Selden said of his two short shots that pretty much ended UConn's hopes of a comeback win.
Of holding Hamilton down, Selden said: "It's always great to play against other great players. I took the challenge head on. It was a good matchup."
The Jayhawks were looking forward to a pleasant three-hour bus ride back to Lawrence after the game. They'll take Sunday off, practice Monday, and head to Louisville, site of the Sweet 16, on Tuesday.
"We had a little 'getting over the hump,' celebration. It wasn't much. We want more," Selden said of the postgame celebration in the locker room. "I've never had one of these before," Selden added of the happy bus ride home after a second-round NCAA game.
"This is going to be fun. We're really looking forward to practice on Monday. We're not going to sit back and relax," Selden proclaimed. "Everybody is focused and realizes our job is not finished."
— See what people were saying about Kansas vs. UConn during KUsports.com's live coverage
---
More news and notes from KU's win over UConn
---
---
---