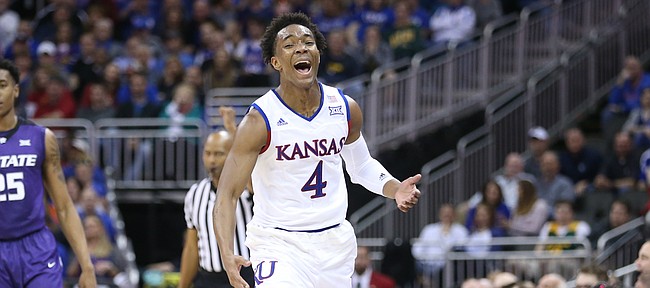 Kansas City, Mo. — Nothing lasts forever. One of these decades, Bill Self will retire, an athletic director will botch the hire, and the once-proud Kansas University basketball program will have to cobble together a backcourt out of one player who committed to Towson, another to Appalachian State. And what will come of the Jayhawks then?
Wait, that's right, Frank Mason III originally committed to Towson, Devonté Graham to Appalachian State. They both found their way to Kansas to start their careers and they have developed into one of the top handful of backcourts in the nation.
"The reality is, when Devonté and Frank play well, they drive us more than anybody else," Kansas coach Bill Self said.
Both played exceptionally well Thursday in KU's 85-63 blowout of Kansas State in a Big 12 Tournament quarterfinal played in Sprint Center.
Photo Gallery
Kansas basketball v. Kansas State (Big 12 Tournament)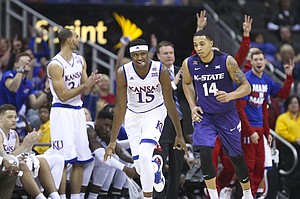 View a gallery of images from the Jayhawks' Thursday matchup against the Wildcats at Sprint Center.
Towson and Appalachian combined for 27 points, 15 assists and three turnovers in 66 minutes. Kansas State coach Bruce Weber tried to stop them with a mix of man-to-man and zone defenses  with equal futility.
Graham and Mason are playing as aggressively as a tandem as at any point. Self keeps asking more of them and they consistently deliver. Early in the season, when we all marveled at their astronomical assists-to-turnover ratio, peered into the mouths of the gift horses and found the flaw to the numbers. The numbers, Self contended, meant they weren't aggressive enough, didn't force their way into the paint often enough.
So they became more aggressive, the turnovers went up and opposing defenses sweated more than anyone whoever stood behind a podium next to Donald Trump. In time, the turnovers came back down. That's how it goes with Self. He drags players out of their comfort zones, they get a little worse, get the hang of it, come out of it all a whole lot better.
In the past three games, Mason has 18 assists and three turnovers. Graham has high turnover games here and there, but he had eight assists Thursday with one turnover and he really has turned up the defensive pressure. Graham was the most aggressive player on the floor at both ends in the first half, when he scored all of his 11 points.
"The guys expect me to be a defensive presence, pressuring the ball, getting deflections, steals," Graham said. "I come out and try to keep that energy up so we won't be flat on defense."
His coach's words no doubt bouncing around his brain, Graham spoke to his imbalanced game.
"In the second half, I was kind of lackadaisical on defense, as coach said, started getting lazy a little bit," Graham said. "In the first half I tried to get in the passing lanes, get steals, find the open man and knock down open shots."
Podcast episode
Kansas basketball coach Bill Self, as well as Jayhawks Frank Mason III and Carlton Bragg Jr. answer questions from the media following KU's 85-63 victory over rival Kansas State at the Big 12 Tournament, in Kansas City, Mo.
As the season has progressed, Graham increasingly has made opposing guards pay for timid play, unsure passes.
"It's just anticipating them, reading a person's eyes and knowing where you think that next pass is going to go," Graham said. "Coach always stresses, get up in the passing lanes, deny, all that kind of stuff."
Kansas will have a chance to tidy up its zone offense today against Baylor. An experienced backcourt is so key in picking apart zones.
"It helps when you know where guys should be on the court, you know the spots that are going to be open on the zone. As a young guy you might not know where to attack the zone or know the things you need to do to get the ball to the spots that are open on the zone."
If Kansas faces a zone in the NCAA tournament, attacking Baylor's Friday will serve as valuable preparation.
— See what people were saying about KU's quarterfinal vs. rival K-State during KUsports.com's live coverage
---
More news and notes from KU's Big 12 Tournament win over K-State
---
---
---
---