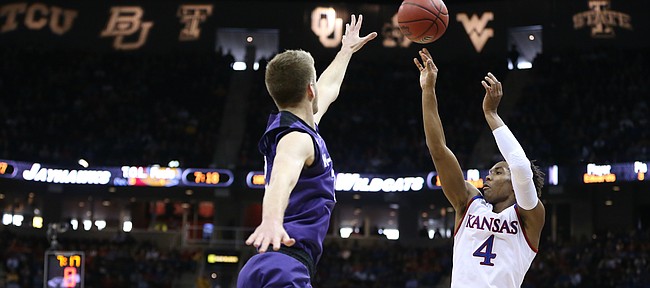 Kansas City, Mo. — In three games against Kansas University this season, Kansas State freshman and Sunflower State native Dean Wade averaged 3.7 points on 3-of-11 shooting in 23 minutes.
In the other 30 games he played, Wade's numbers tripled to 11 points per outing on 45-percent shooting and included 16 games in double figures.
To say the Jayhawks were a thorn in the side of the freshman from St. John (located between Wichita and Dodge City) is an understatement. For Wade, playing Kansas was like biting into that rotten chunk of stem that comes in every bag of sunflower seeds. And after finishing with five points on 1-of-7 shooting during KU's 85-63 victory at Sprint Center on Thursday, the freshman explained why.
"I think it's just their veterans," the 6-foot-10, 225-pound forward said of 28-4 Kansas. "They've been war-tested for the past four years, they know the ins and outs of the game and they play hard all the time."
Photo Gallery
Kansas basketball v. Kansas State (Big 12 Tournament)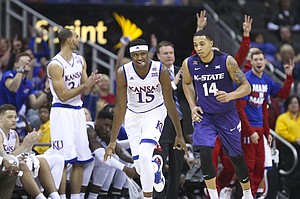 View a gallery of images from the Jayhawks' Thursday matchup against the Wildcats at Sprint Center.
Even for some of college basketball's best players, KU's onslaught can be a bit overwhelming. But for a young player still making the adjustment from Class 2A Kansas high school ball to life in the Big 12, it can be downright maddening.
"It seems like they always are one step ahead of you," Wade said. "Even when you're on offense, they're one step ahead of you on defense. And on offense, they're always setting you up for something. They're just more prepared. They just know what's going to happen."
That certainly was the case again in the Big 12 quarterfinal, when Wade struggled to find much room to work, air-balled his first shot attempt and seemed to slam into a white jersey no matter where he turned. More often than not, that white jersey belonged to KU senior Perry Ellis, whom Wade had nothing but praise for after his third meeting with the Wichita native.
"He's a phenomenal player, somebody I've gotta learn from," Wade said of Ellis. "Just watch him play and do what he does. He's just a great all-around player."
Although emulating an all-Big 12 talent like Ellis might be a lofty aspiration, K-State senior Stephen Hurt said Wade should continue to chase that goal.
"They have very similar games," Hurt said. "Both of 'em being Kansas kids, they're almost identical. That's a great mold for Dean to follow.... Dean's a great player and he has a bright future. But he's a freshman, and you can't expect him to be at top level all the time. He's still learning."
K-State coach Bruce Weber, who has not tried to hide his countdown to the day that Ellis finally leaves Big 12 basketball, said his team ran into a buzz saw on Thursday.
"It's obvious they played at a very, very high level," Weber said of Kansas. "... And the thing I appreciate about them is they play together. Not only good players, but they play together and they share the basketball and they seem to get along very well... It's disappointing that we couldn't give them a better game."
— See what people were saying about KU's quarterfinal vs. rival K-State during KUsports.com's live coverage
---
More news and notes from KU's Big 12 Tournament win over K-State
---
---
---
---