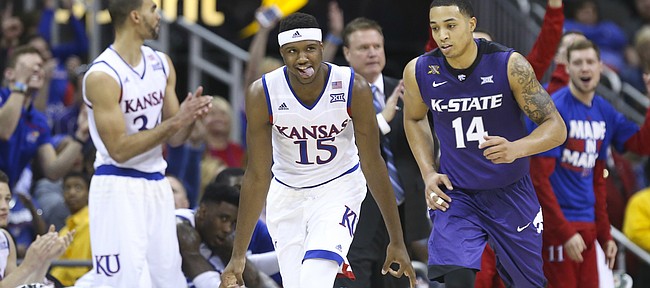 Kansas City, Mo. — Kansas University freshman Carlton Bragg Jr. and his roommate, Lagerald Vick, have a way of relieving stress each and every Sunday night.
They spend at least a couple hours roller skating at Winnwood Skate Center in Kansas City, Mo.
"It's always packed. It's a lot of fun. We take a lot of pictures (with fellow skaters). They teach me how to skate a little bit, roller skate with us. It's just a fun activity," Bragg, KU's 6-foot-9, 220-pound forward from Cleveland, said Thursday after putting on quite a show playing basketball in Sprint Center, which is located just 7.7 miles from Bragg's favorite skating rink.
Bragg scored a career-high 12 points — seven in the first half — of the Jayhawks' 85-63 Big 12 Tournament quarterfinal victory over Kansas State.
Photo Gallery
Kansas basketball v. Kansas State (Big 12 Tournament)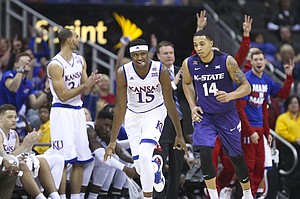 View a gallery of images from the Jayhawks' Thursday matchup against the Wildcats at Sprint Center.
He hit five of six shots, including a career-best two threes in two tries in just 11 minutes. He had not scored more than six points in a game in the last 13 contests.
"It helps me with my footwork, balancing," Bragg said of his weekly roller skating excursions. "You can get a little conditioning in, too. You sweat a lot," added Bragg, who can do a 360 on roller skates. "We pretty  much do it every week unless we have practice."
The 6-foot-5 Vick — he missed two shots while playing three minutes in a rout that propelled KU into Friday's 6 p.m., tourney semifinal versus (22-10) Baylor — concedes that the Jayhawks are a big deal in K.C. on Sundays.
"Fans speak to us, look at us like we are the next big thing up," Vick said. "We get there and have fun. Sometimes it's slow-motion. Sometimes we go for speed. It depends on the music. Its pretty serious. It's packed every time," Vick added.
Podcast episode
Kansas basketball coach Bill Self, as well as Jayhawks Frank Mason III and Carlton Bragg Jr. answer questions from the media following KU's 85-63 victory over rival Kansas State at the Big 12 Tournament, in Kansas City, Mo.
Bragg also draws quite a crowd when he plays the piano impromptu on various occasions in Murphy Hall on KU's campus.
"I like to be myself making my own music," said Bragg, who grinned when asked if he was the most well-rounded player in KU hoops annals. "I won't say in history, probably on (this) Kansas team. I wish, though," he added.
Smiling through his post-game interview duties, Bragg had the bench celebrating on his two three-pointers.
"There was a lot of excitement, especially when Carlton hit those threes. Everybody was kind of shocked," Vick said.
Bragg, who has hit four of seven threes this season for (28-4) KU, was asked if he's been given the green light by coach Bill Self.
"I don't want to say green," Bragg said. "but he tells me, 'When you are open shoot it.' So pretty much yes, you could say that. I felt comfortable with it today and just let it fly. When I made my first one (to give KU 23-11 lead), Jamari (Traylor, six points, four rebounds, two blocks) said, 'Keep shooting it. Let it fly. We have no pressure.' He gave me confidence to keep shooting it more.
"I came out of my comfort zone a little bit today," Bragg added. "Pick and pop, I tried to extend my range. Making shots tonight ... it was good for us."
Bragg also has been inspired by the "Made in March" T-shirts the team wore during warm-ups.
"This is where you are made. Made in March. People are made in March," Bragg said. "People come in and can make a little play or big play. Someone comes in and gets a loose ball. It can change the whole momentum of the game."
Self, who said Bragg would have played more than 11 minutes had he not been in foul trouble — indeed he fouled out — teased the easy-going player on the big stage in the interview room.
"This is Carlton's first time in the interview room," Self said, "and he may be a little nervous. And I told him most guys that come in here get more than zero rebounds."
Indeed, he drew a blank on the boards.
"He has shot the ball well in practice of late," Self said. "He had a day in practice not too long ago where he shot it like that and it kind of gave him some confidence. He's been kind of the odd-man out, unfortunately, because he is not really a true center and Jamari has been good for us, and of course, Perry (Ellis, 21 points, six boards) has got to play a ton of minutes. But he responded today and you guys can see he is a talented kid, very skilled."
And very versatile ... his piano playing and roller skating prowess proof of that.
As to whether he and Vick have been able to convince other KU players to roller skate? 
Uh ... no.
"I have not been (skating). I've been invited," junior Tyler Self said with a smile. "I'm not that big a fan of roller skating. Maybe it works for them. I don't know if it does for me. I think they enjoy it, though. I think about everybody on campus knows Carlton roller blades or roller skates," Tyler added.
— See what people were saying about KU's quarterfinal vs. rival K-State during KUsports.com's live coverage
---
More news and notes from KU's Big 12 Tournament win over K-State
---
---
---
---