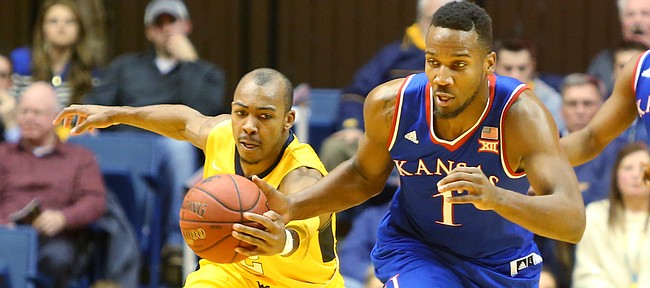 Morgantown, W.Va. — There are half a dozen things you could point to that help explain KU's 74-63 loss to West Virginia on Tuesday night at WVU Coliseum, but, for my money, none of them were worth the cost of Bob Huggins' wardrobe.
From awful weather outside and two long trips in the last two games (Texas Tech and WVU), to the Mountaineers' tenacious defense — remember, they dub themselves Press Virginia — and superior desire, any of those would be good enough reasons for elite athletes who like making excuses.
The Jayhawks aren't and the bottom line is this team simply did not play like the No. 1 team in the nation on Tuesday. Maybe not even top 25.
The Mountaineers (15-1 overall, 4-0 Big 12) not only outplayed the Jayhawks, they also carried themselves like a bunch of street legends who knew they were better. And the way this one went, you'd be hard-pressed to find anyone who would've argued that.
Photo Gallery
Kansas basketball v. West Virginia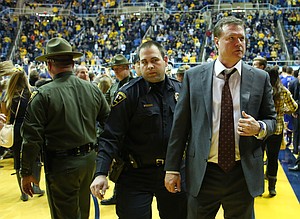 Images from Tuesday night's game between the Jayhawks and the Mountaineers at the WVU Colliseum in Morgantown, W.V.
Look no further for proof of that than the point when Jaysean Paige, he of All-American swagger and a career-high 26 points, darted down the lane and tried to dunk over the entire KU team with 7:30 to play in the second half. It missed, but that hardly mattered. It was more the sentiment behind it that sent notice — or at least should have — that people are tired of Kansas.
Just like that, a team that few talked about as a potential challenger to end KU's streak of 11 consecutive Big 12 regular-season championships — Oklahoma and Iowa State got most of the love — sits in sole possession of the Big 12 lead four games in. Is that early? You bet. And West Virginia, like Kansas (14-2, 3-1), definitely has a bunch of tough games still ahead, including a Feb. 9 trip to Lawrence. But there isn't a team in the conference that wouldn't trade places with them today.
"It's too early to talk about anything like that," Self said of the Big 12 title. "We really don't talk about it that much. I think there's a lot of people that ask us questions that force us to talk about it. It's something that we want to do but not because it's a number, because it would be great for this team to be able to accomplish that."
Despite falling into second place early on, the Jayhawks left Morgantown not discouraged by their spot in the standings, but instead embarrassed by the way they played.
But even the worst nights have a way of helping teams in the end, and junior forward Landen Lucas believed that's exactly what Tuesday could do for his team.
"We let them be more competitive than us and want it more," Lucas said. "You're not gonna run the table in this league. You're gonna take some losses. This is one of them, and we just gotta make sure that we bounce back. We knew we weren't going to go undefeated (in Big 12 play)."
Podcast episode
KU coach Bill Self answers questions from the media following Tuesday's 74-63 loss to West Virginia in Morgantown.
Added Self: "People are gonna lose in this league. I'd be shocked if anybody runs the table and goes 18-0, but certainly West Virginia has put themselves in a great position, because they've got two good road wins and, obviously, a great win tonight."
With 14 games still to play, the fun is just beginning. And when talking just about the top four contenders alone, there still are eight games remaining that figure to be all-out wars and likely will go a long way toward determining this year's champion.
Podcast episode
Perry Ellis and Landen Lucas try to explain what went wrong against WVU in Morgantown.
One of them comes this weekend, when first-place West Virginia travels to Oklahoma on Saturday, when we'll find out with some certainty whether this Mountaineer squad can actually challenge to end KU's streak.
Win that one and not only will WVU have dealt the Sooners another blow in their push to be the team that stops the KU streak, but it also will have just knocked off the No. 1 and No. 2 teams in the nation in a span of four days. If you can do that, you can do anything. And on Tuesday night, that's exactly what the Mountaineers did — anything they wanted.
— See what people were saying about No. 1 KU at No. 11 WVU during KUsports.com's live blog
---
More news and notes from No. 1 Kansas at No. 11 West Virginia
---