Morgantown, W.Va. — Sparsely populated at the start of Tuesday's West Virginia-Kansas University basketball game because of a snowstorm that turned major highways into skating rinks, WVU Coliseum was close to full by the end of the Mountaineers' 74-63 victory over the Jayhawks.
The perseverance on the roads paid off for the WVU fans, who witnessed history as their No. 11-ranked (15-1, 4-0) Mountaineers beat a No. 1-ranked team in Morgantown for the first time since 1983, when UNLV fell to the home team, 87-78.
WVU also took over first place in the Big 12 Conference as the (14-2 Jayhawks) dropped their first league game in four tries. All that gave the Mountaineer fans more than enough reason to storm the court after the contest, which they did for the third straight season.
Yes, KU has dropped three in a row to WVU in Morgantown.
Photo Gallery
Kansas basketball v. West Virginia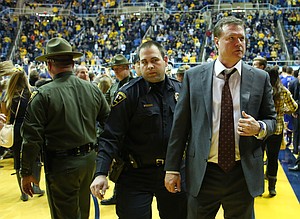 Images from Tuesday night's game between the Jayhawks and the Mountaineers at the WVU Colliseum in Morgantown, W.V.
"It's the buildings and trees and river that caused us to play poorly," KU coach Bill Self said sarcastically when asked if there's something about Morgantown that gives KU fits.
The Jayhawks in the Self era have also lost three straight times to two other league teams in their gyms — Texas Tech in 2005, '07 and '09 and Texas in 2004, '06 and '08.
"West Virginia is aggressive. They've got a real good team and are well coached. Certainly there will be a lot of teams that lose here. It's nothing about Morgantown, it's about how their team played against our team," he added.
KU, which had a 13-game win streak snapped, committed 22 turnovers. Frank Mason III, whose contingent of family members from Petersburg, Virginia, arrived at the arena with eight minutes left in the first half because of treacherous roads in Morgantown, committed seven turnovers against two assists. Devonté Graham had one turnover, three assists.
"Well, they are ultra quick, they play so hard," Self said of WVU, which was led by guard Jaysean Paige, who scored a career-high 26 points. He had five of WVU's 12 steals.
"Our guards didn't have a good game. In practice I thought we were prepared to attack it (press). Obviously we weren't," Self said. "We've got to take responsibility for that. We've got good ball-handling guards and we looked so slow. As bad as the ball-handling was, they beat us in all the competitive plays. We had guys reaching for balls. They were diving for them. And we didn't rebound the ball well (out-rebounded 41-39).
Podcast episode
KU coach Bill Self answers questions from the media following Tuesday's 74-63 loss to West Virginia in Morgantown.
Of Mason, who scored 12 points, Self said: "It seemed to me he wasn't engaged emotionally tonight. I don't know what it was. I was nervous about the weather because Frank had 25 family members coming. You start worrying if they can get here. This is the only chance they have to see him play. I don't think it was it. He wasn't himself tonight at all."
Mason's dad, Frank Mason II said, "That's a possibility," when asked if their late arrival had his son a bit worried. "I'm quite sure. He just had a bad game. He's just got to shake it off and do it all over again," dad added.
Also, it took KU's team 50 minutes to get from its hotel in Morgantown to the arena. The Jayhawks arrived at 6 p.m., for the 7 p.m. tip.
Podcast episode
Perry Ellis and Landen Lucas try to explain what went wrong against WVU in Morgantown.
"I don't buy into that stuff. West Virginia's kids had a hard time getting here, too," Self said of team travel. "We got here. As a matter of fact, Miles (Daxter, three points, two steals) and Paige (six of 13 shooting; 14-17 from line) were just getting here when we did. We had plenty of time to get ready for the game. Hopefully nobody was seriously injured. As many ambulances and police cars we saw there had to be a lot of accidents."
The Jayhawks, who did lead 14-9 early  but trailed 37-29 at half, were most upset by their lack of aggressiveness.
"We couldn't get stops. They were getting anything they wanted driving down the lane," said senior Perry Ellis, who had 21 points and seven rebounds. "I was surprised after the game seeing we had that many turnovers. You can't do that if you want to win."
Noted Wayne Selden, Jr., who had 11 points and six turnovers with no assists: "We weren't strong with the ball. We got out-toughed. They were men. We weren't. We just can't let it happen again."
Said Landen Lucas, who had six boards: "We let them be more competitive than us and want it more."
KU did trail by just four points, 43-39, with 14:06 left, but it was back to 55-44 by 8:55, and West Virginia had nailed down sole possession of first in the league.
"It's a combination of things, missed free throws," said Self, whose squad hit 13 of 21 to West Virginia's 33 of 47. "As bad as we were, we had it to four with 10 left, then that goes up to 10. They kept us at arm's distance. We were never able to put game pressure on them. It's a disappointing loss because they whipped us physically and were so much more athletic and quicker to the ball and aggressive."
KU will meet TCU at 1 p.m., Saturday in Allen.
— See what people were saying about No. 1 KU at No. 11 WVU during KUsports.com's live blog
---
More news and notes from No. 1 Kansas at No. 11 West Virginia
---