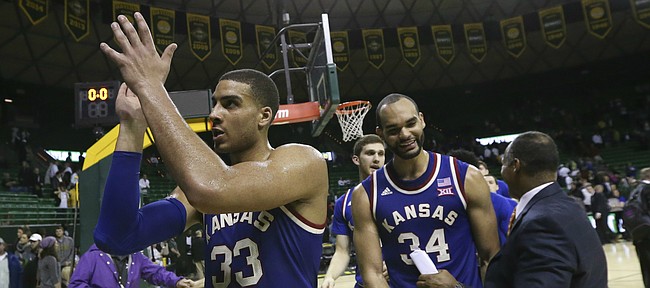 Waco, Texas — Kansas University's basketball team staggered home from Ames, Iowa on Jan. 25 with a 5-3 record in Big 12 play and a lot of folks figuring the Jayhawks' run of 11 straight league titles was nearing an unsightly end.
"Just a couple weeks ago we were in fourth place. People had us out of this race. I kept telling the guys, 'Believe, believe. Keep your confidence in yourself. Come out and practice hard and do your best to prepare for every game,''' KU junior guard Frank Mason III said after the Jayhawks' 66-60 victory over Baylor on Tuesday in Ferrell Center.
The resilient squad's never-say-die attitude — KU (24-4, 12-3) trailed by eight points with 14:38 to play against a Baylor (20-8, 9-6) squad that was dominating the backboards — has resulted in seven straight victories in conference action, and counting the 'W' against Kentucky, eight in a row overall.
It's all vaulted KU from fourth to first in the league.
Photo Gallery
Kansas basketball v. Baylor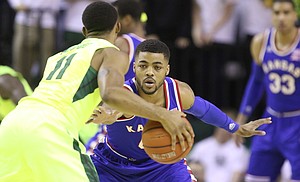 View a gallery of images from Tuesday night's game between the Jayhawks and Bears at Ferrell Center in Waco, Texas.
KU, in fact, can assure itself a 12th straight Big 12 crown Saturday with a victory against Texas Tech (11 a.m., Allen Fieldhouse).
"It means a lot, man," KU senior Perry Ellis said Tuesday after scoring 15 points with two rebounds, three assists and two blocks despite playing with 12 stitches in his head and a glassy right eye. He was injured in Saturday's victory at Kansas State.
"We never gave up on each other. We knew we'd have to keep fighting game by game and it'd fall in our favor," Ellis added.
KU coach Bill Self, who was furious at halftime after a Wayne Selden Jr., charging foul at 1.9 seconds was followed by a full-court pass by Ishmail Wainright to Rico Gathers, who stroked a three from the left corner over Landen Lucas to give the Bears a 36-33 lead — "I got on 'em hard at halftime, probably too hard," the coach said — was jubilant after the contest.
"It's a cool deal no matter what, no matter where you are," Self said of getting a chance to win the league, whether at home or on the road Saturday. "I told our players it would be nice to get a share of it in front of our fans, at least clinch a tie and have a chance to obviously win it outright next week (Monday at Texas). I certainly hope our fans appreciate what these kids have done this last month. What is that, eight in a row against unbelievable competition?" the coach asked.
"When we didn't play well ... when we did play well. When we made free throws ... when we didn't make free throws. When we rebounded, when we didn't, it's still been guys toughing it out. It's an early morning start obviously, 11 a.m. I think it'll be a pretty juiced crowd because these kids ... they've fought pretty hard," Self added.
The Jayhawks used a late 11-2 run to turn a 55-53 deficit (at 4:11) into a 64-57 lead at :08.2.
Podcast episode
Kansas basketball coach Bill Self discusses how his team toughened up in the final minutes to win at Baylor.
First, Ellis hit two free throws to tie the score at 55, then Lucas came up with the basketball following a turnover by guard Lester Medford, seemingly exhausted after dribbling all over the Bears' end of the court on that 30-second possession. 
On the other end, Seldens miss was put back by Lucas (10 boards, five points) for the points that put KU ahead for good, 57-55. Taurean Prince hit a layup following one of two Mason free throws and KU led, 58-57 at 1:58. Selden grabbed an offensive board to keep a possession alive, then Selden (six points, six boards) flushed an alley-oop from Graham. After a Medford miss, Selden scored a driving layup and KU led, 62-57, at :28.
"Wayne did a great job on Prince (12 points, 4-13 shooting). Those offensive rebounds (four) were special," Self said of Selden. "His drive, scoop shot and lob catch were great. Landen guarded Motley (Johnathan, eight points, 3-10 shooting) great down the stretch. To play the last nine minutes without fouling and control the glass for an eight-minute stretch (KU was out-boarded 33-28) when we hadn't done it all game was good."
Podcast episode
Kansas basketball's Wayne Selden Jr. and Landen Lucas discuss the Jayhawks' impressive finish to win at Baylor.
Lucas and Selden were resilient, never just chalking it up as one of those nights, instead battling until the end.
"It was tough. Coach challenged Wayne and I the whole time," Lucas said. "The good thing is even if the offense isn't coming from either of us, one thing we can do is create possessions, which we did late. Toward the end it flipped where we started getting the offensive rebounds. That helped us win the game."
KU hit 50 percent of its shots, including eight of 19 threes, and made 12 of 17 free throws. Baylor hit 36.1 percent, eight of 20 threes and eight of nine charities.
The KU effort means Saturday's game could be a red-letter day in fieldhouse history, with 12 titles in a row on the line still with three games remaining.
"It's awesome, especially since we could do it at home in front of our fans," Lucas stated. "About a month ago a lot of people were doubting us. To do it with a couple games left would be special."
— See what people were saying about KU at Baylor during KUsports.com's live coverage
---
More news and notes from Kansas at Baylor
---
---
---