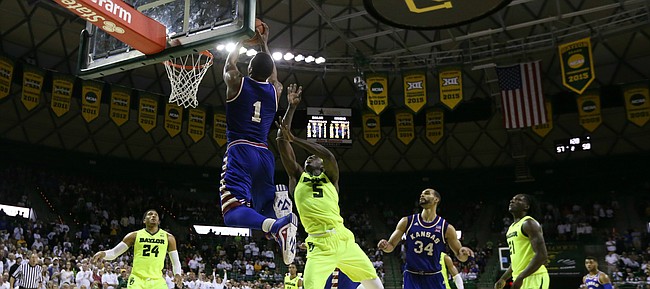 Waco, Texas — When the lights brighten and the pressure intensifies, the only thing that melts away for the Kansas University basketball team is stress.
When the game enters the home stretch, no matter how sloppy it might have been during other stages of the night, the Jayhawks play like champions. They love the challenge. They finish games the way they are finishing the season.
The transformation in them for the final four minutes and change of Tuesday night's 66-60 victory against a quick, skilled Baylor squad in Ferrell Center was every bit as amazing as the team's makeover in the past five weeks.
Juniors Landen Lucas and Wayne Selden Jr. seemed to play much of the game in a fog, and then could do no wrong when it came to winning time. They dominated the boards and defended with such tireless toughness in leading Kansas on a 13-2 run that preceded Al Freeman's three-pointer with two seconds remaining.
Photo Gallery
Kansas basketball v. Baylor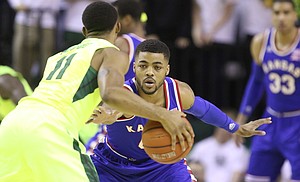 View a gallery of images from Tuesday night's game between the Jayhawks and Bears at Ferrell Center in Waco, Texas.
Kansas consistently plays its best at winning time and makes it look so easy as to almost appear staged. That's a great sign for March.
"I can tell you when we first started doing this it was stressful," Selden said. "We're at the point now where we're a battle-tested team. We've been through a lot as a group and we don't get rattled as much. I don't think we get rattled at all, actually."
How do they do it?
"Our composure," Selden said. "Our poise. We have two point guards who handle pressure really well (Frank Mason III and Devonté Graham). We have one of the best scorers in the country in Perry (Ellis) and one of the best rebounders in Landen. So it's really just playing how we play, not trying to do anything more."
And then there is Selden, who couldn't do much of anything right at the offensive end until the game hung in the balance. Then he was the best player on the floor.
Selden continued the terrific defense he had played all night on Taurean Prince (4 for 13) and in the final 2:25 picked up two offensive rebounds and scored four of his six points. He cut down the baseline, skied to catch Graham's lob to give KU a three-point lead with 1:27 on the clock. And then he drove hard right to beat the shot clock and his man, stretched his arm way wide to avoid a block and scooped a shot into the hoop to put Kansas up by five points with 28 seconds left.
Lucas' night followed a similar pattern.
Baylor's quick big men made Lucas look slow for much of the night, beating him to rebounds. The Bears dared him to shoot and when he did, he mostly missed, once with an air-ball.
Podcast episode
Kansas basketball coach Bill Self discusses how his team toughened up in the final minutes to win at Baylor.
Selden had thrown up one of those early in the game and the fans chanted the word every time he touched it after that. Lucas and Selden topped their nights with whipped cream, but it took them a while. 
At the end of the first half, when Rico Gathers made his first career three-point attempt from the left corner to beat the buzzer, he was able to do so because Lucas didn't challenge the length-of-the-court pass.
"I wasn't very pleased with some of our personnel the first 30 minutes of the game," Kansas coach Bill Self said. "Those two (Lucas and Selden) really struggled. I got onto them hard at halftime, probably too hard. They really struggled the first half. They're not the only ones."
And nobody was better than that tandem at winning time, which earned them the coach's praise.
Podcast episode
Kansas basketball's Wayne Selden Jr. and Landen Lucas discuss the Jayhawks' impressive finish to win at Baylor.
In the final 4:52, Lucas had 5 of his 10 rebounds, a huge steal and a big put-back.
"It was tough," Lucas said. "Coach was challenging us, Wayne and (me) the whole time. The good thing is, even if the offense isn't coming for either one of us the one thing we can do is create extra possessions and play well defensively. I think we did that toward the end of the game and gave our team a chance to win."
KU (24-4 overall, 12-3 in the Big 12, No. 2 in the nation) is peaking because it's defending in games as well as it defends its Big 12 title every year, and because they play their best basketball when others feel the heat. Teams don't improve to the extent Kansas has without the players having each other's backs and without the coach having all their ears. 
— See what people were saying about KU at Baylor during KUsports.com's live coverage
---
More news and notes from Kansas at Baylor
---
---
---