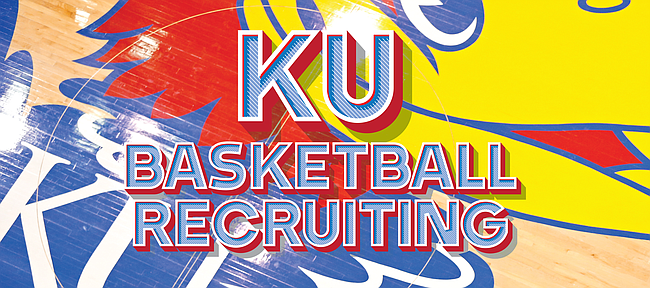 Waco, Texas — The Kansas basketball program has offered a scholarship to Taurean Thompson, a 6-10, 220-pound senior forward from Brewster Academy in Wolfeboro, N.H., according to ESPN.com and Zagsblog.com.
Thompson is ranked No. 84 in the recruiting Class of 2016 by Rivals.com. He is also considering Syracuse, Seton Hall, Providence, Wake Forest, Louisville, Arizona State, Georgetown, Pitt, N.C. State and others.
"I'm probably going to wait to see who goes to the draft and that's when I'll probably decide, all the way deep spring," Thompson told Zagsblog.
Gak yak: KU also has offered a scholarship to Deng Gak, a 6-9, 210-pound junior forward from Blair Academy in Blairstown, N.J., Zagsblog reports.
Photo Gallery
Kansas basketball v. Baylor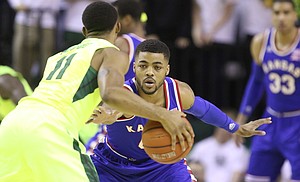 View a gallery of images from Tuesday night's game between the Jayhawks and Bears at Ferrell Center in Waco, Texas.
Originally from Australia, Gak is also considering SMU, Minnesota, Seton Hall, Providence, Cincinnati and others.
"Gak is new to the country and still hasn't been seen that many times," writes Eric Bossi of Rivals.com. "Rangy, long athlete who can put the ball on the floor a little bit, is quick and has some skill. Pretty skinny and not really that into banging for position just yet. Somewhere in the 6-9, 6-10 range with good length and he runs very well. Will debut in 2017 rankings when they get updated here in the next week and a half or so."
Young erupts for 60: Trae Young, a 6-foot-1 junior guard from Norman (Okla.) North, who is ranked No. 26 in the Class of 2017 by Rivals.com, scored 60 points in a recent victory 102-70 victory at Yukon.
Young hit 12 threes in the game.
The son of former Texas Tech guard Rayford Young, Trae has taken unofficial visits to KU, Duke, Kentucky, SMU, Oklahoma and Oklahoma State. He's also had Stanford, Texas, Texas Tech and Missouri on his list.
He's hoping to be a package deal with No. 3 Michael Porter, a 6-8 junior forward from Tolton Catholic in Columbia, Mo.
Yurtseven on market: Seven-foot Turkish forward Omer Yurtseven is interested in joining an American college team for the 2016-17 season, Scout.com reports. He currently has a list of Arizona, Arizona State, Baylor, California, Duke, Miami, Texas and UC-Irvine.
So far KU and Kentucky are not involved.
— See what people were saying about KU at Baylor during KUsports.com's live coverage
---
More news and notes from Kansas at Baylor
---
---
---