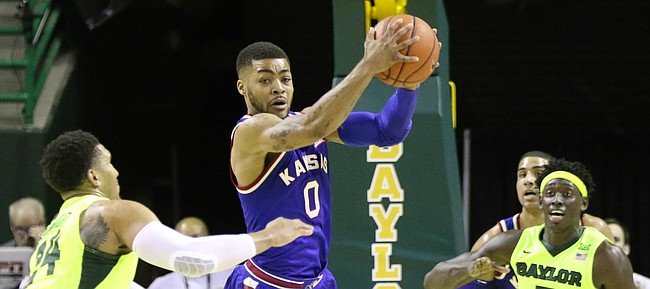 Waco, Texas — At least Baylor's basketball team didn't lose by 28 points as it did in Allen Fieldhouse back on Jan. 2.
That was the consolation coach Scott Drew took from Tuesday's 66-60 loss to Kansas University — a game that could have gone either way, but ended up being BU's seventh straight loss to the Jayhawks.
"I think we have seen a marked improvement from the first time we played them," Drew said. "There are no moral victories, but I like how we are headed in the right direction and we need to keep building off of it.
"These games will hopefully prepare us for games later in the rest of the month, as well as March," he added after his squad fell to 20-8 overall and 9-6 in the league.
Photo Gallery
Kansas basketball v. Baylor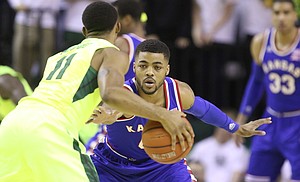 View a gallery of images from Tuesday night's game between the Jayhawks and Bears at Ferrell Center in Waco, Texas.
KU improved to 24-4, 12-3.
"I was proud of how we competed and played for about 36 minutes," Drew said. "Then I wish we could have that last four minutes over again. I don't think we executed as well as we would like. We didn't rebound as well as we would like down that stretch."
KU used an 11-2 run to turn a 55-53 deficit into a 64-57 lead.
"I think (Landen) Lucas had five big rebounds and (Wayne) Selden had four," Drew said. "Normally we do a good job blocking out with wings flying and putting a body on the bigs.
"The big thing is we got 20 offensive rebounds and they got 12, but they got 15 second-chance points and we got 14. So they were just more efficient when they were getting them. If we were the same efficiency level as they were, then say you finish with 22 points and it's a different game," Drew added.
Baylor did out-rebound KU, 33-28, though KU was solid on the glass down the stretch, as Drew noted.
"It's sad to say, but they probably just wanted it more than we did," said BU's Taurean Prince, who had 12 points and three boards. "That is what it seemed like. Their guys were flying in and, like coach said, we were not boxing out and doing our jobs. That's on us."
Baylor had been 20-0 when leading in the second half.
"At the end of the game," said sophomore Al Freeman, who had 17 points, including a corner three that gave BU a 55-53 lead at 4:11, "they were able to get some 50-50 balls and offensive rebounds that really made the difference at the end of the game. After the first 36 minutes, we were ahead of them and had the lead and winning the battle on the glass. The last four minutes was just tough and it will be a great learning experience when we go back and look at the film. If we get in this position again we will remember this and be able to put the other team away."
The Bears did at least have the play of the game when power forward Rico Gathers accepted a full-court pass from Ishmail Wainright and hit a three from the left corner on the only three-point attempt of his career. It took just 1.9 seconds to pull that all off right before half.
"He has been working on that corner three," Drew said, "so we are glad to show it off. It worked and I thought it gave us great momentum."
— See what people were saying about KU at Baylor during KUsports.com's live coverage
---
More news and notes from Kansas at Baylor
---
---
---