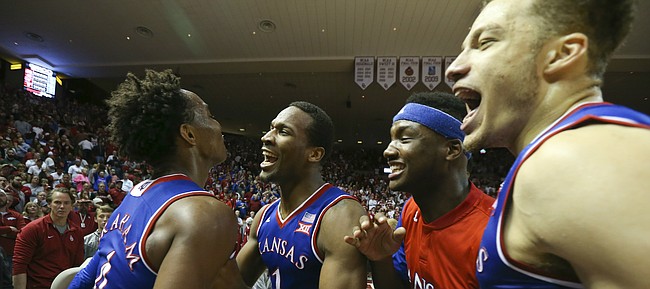 Norman, Okla. — This had looked like the year Kansas finally had too many weaknesses, too much vulnerability, the year it would let go of its death grip on the Big 12 title.
Not anymore.
Just in time to make the rest of the conference think, "No, not again!" Kansas has its typical act together.
Problems filling the center spot and defending the perimeter, which fueled other conference contenders with hope, are fading to the background just in time to make the Jayhawks the team to beat again, thanks to a huge, 76-72 Saturday afternoon victory against Oklahoma in Lloyd Noble Center.
Photo Gallery
Kansas basketball v. Oklahoma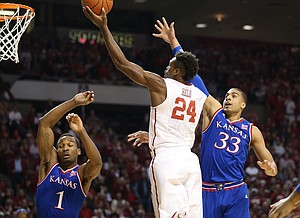 View a gallery of images from the Jayhawks' game against the Sooners, Saturday at Lloyd Noble Center in Norman.
The Sooners had leading national player of the year candidate Buddy Hield and the home-court advantage going for them in the game billed as "The Rematch," a reference to last month's triple-overtime thriller in Allen Fieldhouse.
The Sooners had the best three-point shooting percentage in the nation, too many marksmen to pay too much attention to Hield.
So what happens? Kansas sophomore Devonté Graham, with the timing of a Powerball winner, shows a glimpse of what his senior season might look like on a consistent basis by having the game of his life at both ends of the floor.
The sophomore outplayed Hield, shut him out for the first 10:55, kept him without a field goal the entire first half, and out-scored him.
Graham's monster game was not the only discouraging sign for the rest of the conference.
Even against an offensive machine armed with a trio of guards who not only fire from long distance with exceptional accuracy, but blow by defenders on the way to the hoop, Kansas played a terrific defensive game, building on an upward trend of late in that department.
Kansas coach Bill Self not only chose the right player to guard Hield, he tweaked the way the Jayahwks defended him, setting a goal of never running at him, already being there at the catch.
So even though Isaiah Cousins' quickness made it difficult for Wayne Selden Jr. to stay with him and led to 21 points for Cousins, and even though Hield made 5 of 11 threes and scored 18 second-half points, Kansas made life miserable for one of the nation's most potent offenses.
Podcast episode
Bill Self marvels at Devonte' Graham's ability to put up 27 points and hold down OU guard Buddy Hield, saying, "I don't know how he didn't get tired."
Without as much low-post scoring, and therefore not as many trips to the free-throw line, this team was not going to contend without playing typically stingy Kansas defense, so naturally, that's what the Jayhawks are playing.
"I feel like we're getting a lot better at it," fifth-year senior Jamari Traylor said. "We're shrinking the floor, we're rebounding a little bit better and I feel like that West Virginia game (in Morgantown), we were really, really terrible. I feel like every game since then we made a couple of steps to get a little bit better, a little bit better, defensively. I feel like it's starting to show."
By "shrinking the floor," Traylor said he meant, "clogging the paint, not giving guys driving lanes to the basket and when they get one, guys are stepping over with help defense."
How has that improvement come about?
Podcast episode
Devonte' Graham and Landen Lucas on how KU picked up a huge road win at Oklahoma
"Just practice," Traylor said. "Coach has been on us in practice and we've been holding each other more accountable, from player to player."
Translation: Self has reached the team that in that regard had been more elusive to coaching than most of the squads during the title run.
The improved defense and rebounding is intertwined with the emerging solution to the center problem. Landen Lucas has moved to the head of the class. He came up big again Saturday, producing seven points and 10 rebounds. He and Perry Ellis (10 points, all in the first half, seven rebounds) joined efforts to limit OU's Ryan Spangler and Khadeem Lattin to a combined nine points and 12 rebounds.
The loss pushed Oklahoma out of its share of first place, now shared by Kansas and West Virginia, with 9-3 records.
No doubt, Jayhawks footsteps could be heard Saturday from Norman to Morgantown, W.V., to Ames, Iowa, to the Texas towns of Austin and Waco.
After KU's Tuesday night victory against West Virginia, Mountaineers coach Bob Huggins said: "All due respect to Kansas, I don't think anybody in this league sits around and thinks about Kansas all the time. ... I mean, do we think about Kansas? We do right before we get ready to play 'em. Other than that, why would ya?"
That's the only way for a coach to look at it, but in the mind of every Big 12 fan outside of Lawrence, and even in the heads of many Big 12 players, the same words surely are bouncing around: "No, not again!"
— Tom Keegan appears on The Drive, Sunday nights on WIBW-TV
— See what people were saying about the KU-OU rematch during KUsports.com's live coverage
---
More news and notes from KU's win at Oklahoma
---
---
---