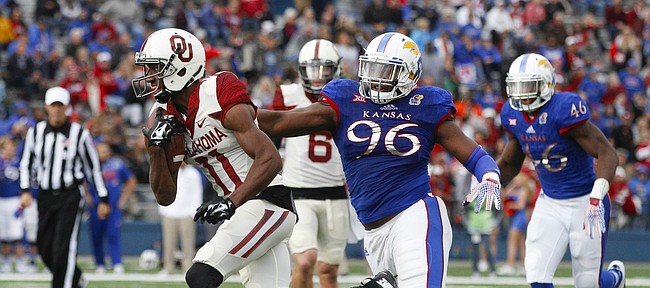 Oklahoma quarterback Baker Mayfield has a knack for leaving games early when he plays at Memorial Stadium.
In 2013, while playing for Texas Tech, Mayfield left the Red Raiders' run-away victory over Kansas University before the final horn sounded because of an injury. In that one, the Austin, Texas, native completed 33 of 51 passes for 368 yards.
Saturday, during No. 14 Oklahoma's 62-7 rout of Kansas in front of a Halloween crowd of 26,677, Mayfield, now playing for the Sooners after transferring and sitting out a year, left the laugher — healthy this time — with 9:34 to play in the third quarter after completing 27 of 32 passes for 383 yards and four touchdowns and finishing with a stellar QB rating of 226.2.
Different shade of red, same onslaught.
Photo Gallery
Kansas football v. Oklahoma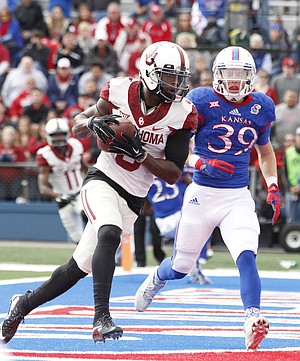 View a gallery of images from Saturday's game between the Jayhawks and Sooners at Memorial Stadium in Lawrence.
"Early, I was encouraged," KU coach David Beaty said of the KU defense's ability to make Mayfield uncomfortable. "It looked like we were creating some pressure on him. But he was able to duck under some things and create some extended plays, which I've watched him since he was at the other place. We've got to be able to get him down there. He's a slippery guy."
Mayfield led the Sooners (7-1 overall, 4-1 Big 12) to a whopping 710 yards of total offense, the fifth most ever given up by a Kansas defense. OU's 445 yards passing — back-up Trevor Knight added 62 yards on 6 of 9 passing — were the sixth most surrendered by a KU secondary.
In the first quarter alone, OU out-gained Kansas 248-41, with the Sooners averaging 12 yards per play to just 2.0 by Kansas. Mayfield eclipsed 200 yards passing with 12 minutes still remaining in the second quarter.
Podcast episode
First-year Kansas football coach David Beaty addresses all that went wrong for the winless Jayhawks in a 66-7 homecoming loss to No. 14 Oklahoma.
Even in a Kansas football season that has included losses of 25, 32, 48 and 59 points, Saturday's setback looked like the biggest mismatch of the year. It's not that the Jayhawks didn't compete, just that they couldn't.
Mayfield and OU receiver Sterling Shepard, whose 174 receiving yards in Saturday's opening half marked the second most in a single half in Oklahoma history — the most, 178 by Juaquin Iglesias in 2008, also came against Kansas — made sure of that.
Whether it was the deep ball, off of play-action, or simply Shepard being better than the man covering him, the OU playmaker got loose all afternoon and made the Jayhawks pay for losing sight of him.
"Oklahoma's receivers (get) a little overlooked by other people, but not by us," junior safety Fish Smithson, who, once again, tallied double-digit tackles (10) to lead KU's defense. "They do a great job of airing it out."
To put the Oklahoma QB's day in perspective, it marked the third time this season that a Kansas opponent had pulled its starter in the second half, and Mayfield's final line out-shined those of Baylor's Seth Russell (246 yards and 3 TDs) and Memphis' Paxton Lynch (354, 2) during similar blowouts earlier this season.
Mayfield, who topped 300 yards passing for the first time in four games, wasted no time racking up the yards. On the first play from scrimmage, he hit Shepard with a 41-yard completion that served as a warning of sorts for what was ahead.
One year after Oklahoma freshman Samaje Perine lit up a much better Kansas defense for an NCAA-record 427 rushing yards in an OU win in Norman, Oklahoma, the Sooners aired it out on the opening play Saturday and rarely stopped throwing.
"We've been struggling a little bit out there on the corner with some of those deep balls," Beaty said. "I think they may have saw that as a way to get a quick start. Obviously, that paid off for them."
Don't worry. Perine still did enough damage to get noticed. The bruising sophomore finished with 90 yards and two touchdowns on just 11 carries and, believe it or not, was hit more often and much harder than at any point during last year's historic day.
Not that it mattered. When Kansas wasn't giving up huge chunks to Mayfield or predictable gains for Perine, red-shirt freshman Joe Mixon, who actually was the more highly-touted recruit of OU's dangerous backfield duo, was gashing the Kansas defense. And even third-string tailback Alex Ross (103 yards on 14 carries) put up an eye-popping total.
This one got so bad that the Sooners inserted their back-up kicker and third-string quarterback to finish off the Jayhawks, who fell to 0-8 overall and 0-5 in Big 12 play.
"We've gotta get better all around," Beaty said. "Defensively, there's a lot of what-if type deals. Offensively, we just didn't perform as well as the man over us. Maybe we just got overpowered at times. And we've gotta do a better job of putting them in better positions if we do get overpowered."
So where do the Jayhawks go from here?
Recent history would indicate that more of the same lies ahead in the final third of Beaty's first season, but after suffering rough losses to top-15 teams during three of the past four weeks, the Jayhawks catch a small break — if you're looking for one — by playing three unranked opponents in the final four weeks of the season.
Those three teams — Texas, West Virginia and Kansas State — combined to enter Saturday three games below .500. Of course, the one team in KU's final foursome that is ranked is No. 5 TCU, which sits at 8-0 and smack dab in the middle of the push for a spot in this year's College Football Playoff.
"It's not really a relief," said Smithson of KU's three unranked foes that await. "Because we've still got four more Big 12 opponents to play and we haven't really been playing lights-out on defense. But you can see improvement and you can see us matching up against them."
As for the most important thing to learn from Saturday's setback, Smithson said that was simple.
"Just not forgetting this loss," he said. "It's not good giving up 60-plus points on homecoming. That's not good for Jayhawk nation."
— See what people were saying about the game during KUsports.com's live coverage.
---
More news and notes from Kansas vs. Oklahoma
---