Junior safety Fish Smithson, who entered the Kansas University football team's 62-7 homecoming loss to No. 14 Oklahoma second in the Big 12 Conference in total tackles, recorded his fifth double-digit tackle total of the season, leading the Jayhawks with 10 tackles in the loss to the Sooners.
"He just goes and does his job," KU coach David Beaty said. "He is a super kid. He had a mistake today and he came off the sideline, man, he looked me in the eye and said, 'Coach, there's no excuse. That's my fault.' I mean, it's just the type of kid that he is. I know that he's not going to make that same mistake again. He's a kid that you really like to have out there. We've just got to keep working on trying to cultivate his skills to where he can be faster and get guys covered a little bit better on third down. He's a guy I love having on this team."
A first for Patrick
Red-shirt freshman Tyler Patrick, a 6-foot, 179-pound wide receiver from The Woodlands, Texas, scored the first touchdown of his college career on Saturday, a 17-yard strike from freshman QB Ryan Willis on the first play of the second quarter.
Photo Gallery
Kansas football v. Oklahoma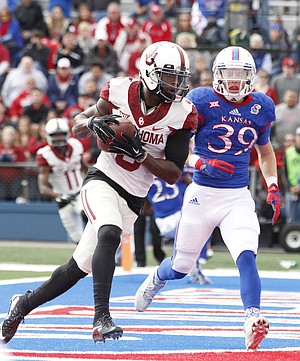 View a gallery of images from Saturday's game between the Jayhawks and Sooners at Memorial Stadium in Lawrence.
Judging by the sound of his reaction, the TD is not one the young wideout will forget any time soon.
"When he came to the sideline, I thought he was going to pass out," Beaty said of Patrick, who like all true and red-shirt freshmen is not available for interviews this season. "He was screaming so loud, so excited about getting into the end zone. That kid has steadily improved. We continue to kind of move people over in front of him every now and then and he just makes you play him."
More streaks to note
KU's loss to OU on Saturday extended the Jayhawks' stretch of consecutive losses to Top 25 opponents to 21 games. Included in that stretch is 10 in a row to ranked opponents inside Memorial Stadium.
This and that...
The Jayhawks lost Saturday's opening coin toss for the first time in four weeks. OU elected to receive the opening kickoff.... Freshman defensive end Dorance Armstrong and freshman offensive tackle Clyde McCaulley made the first starts of their KU careers. Armstrong finished with career-highs in tackles (six) and sacks (two)…. Junior walk-on Austin Moses, a wideout from Highland CC, made his KU debut but could not haul in the only pass thrown his way.... Place kicker-turned-punter Matthew Wyman booted a career-high eight punts and averaged 42.8 yards per kick while pinning two inside the Oklahoma 20.... Temperature at kickoff was 57 degrees, under cloudy skies with winds of 9 mph out of the northwest.
— See what people were saying about the game during KUsports.com's live coverage.
---
More news and notes from Kansas vs. Oklahoma
---