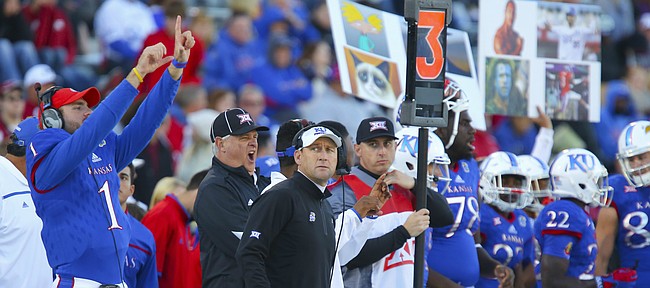 Throw Oklahoma coach Bob Stoops into the circle of football minds who both believe in and sympathize with first-year Kansas University football coach David Beaty.
Stoops, speaking after his 14th-ranked Sooners steam-rolled Beaty's Jayhawks 62-7 at Memorial Stadium, had nothing but good things to say about KU's fourth head coach since the start of the 2010 season.
"First, I just want to say I think the world (of) Coach Beaty," Stoops began. "He's doing all the right things here. It takes time. He came into a tough situation, but, again, I know their guys over there and some of their coaches, they will stay positive and continue to work with these guys."
One year after watching freshman running back Samaje Perine light up a Kansas defense for an NCAA-record 427 rushing yards, Stoops witnessed another one of his guys turn in a memorable day.
Photo Gallery
Kansas football v. Oklahoma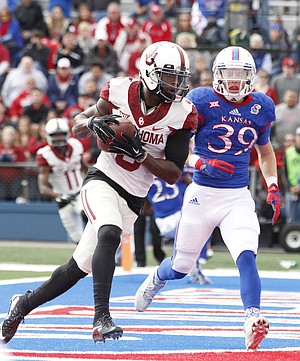 View a gallery of images from Saturday's game between the Jayhawks and Sooners at Memorial Stadium in Lawrence.
Transfer quarterback Baker Mayfield, who beat out returning starter Trevor Knight for the starting nod, finished with 383 yards on 27 of 32 passing in just over two quarters of play. Mayfield, a junior who sat out the 2014 season after transferring from Texas Tech, showcased the total package in rolling the Jayhawks (0-8 overall, 0-5 Big 12).
"I thought Baker Mayfield again (did a great job with) decision making, handing the ball off, throwing quick options," Stoops said. "He is really doing a great job with all of that. I thought the execution was excellent."
After the loss, Beaty said he thought the predictable nature of Kansas paying a little extra attention to Perine this season might have aided the Sooners' passing attack. OU senior Sterling Shepard agreed.
"(We) did a great job running the ball," said Shepard, who finished with 183 yards on 11 catches as his team improved to 7-1 overall and 4-1 in the Big 12. "So you have no choice but to load the box because you have to stop Perine and Joe Mixon. It definitely helps us wideouts a lot and we have to continue to win one-on-one battles and make competitive catches. I feel like the guys did a great job of that today.
"I feel like we are putting things together. Things are starting to gel and we are just continuing to build each and every week. During practice, guys are focused and that's the main thing I see out of this group of guys. That is something we have to continue to do."
— See what people were saying about the game during KUsports.com's live coverage.
---
More news and notes from Kansas vs. Oklahoma
---