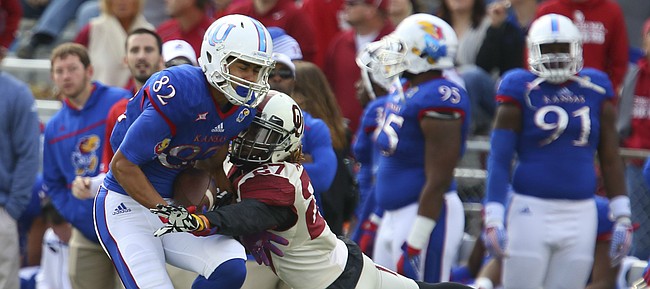 Saturday's 62-7 loss to No. 14 Oklahoma marked the fourth time in the past five games that Kansas University's new-look, Air Raid offense failed to fly above 14 points.
Head coach David Beaty said after the loss that he had been surprised by the offense's struggles to put points on the board this season and, said simply, "We got to get that fixed in a hurry."
"Right now, one of my most disappointing things is that, offensively, our production is not what I expect," Beaty said. "It's got to be a lot better than what it is. We have to be able to score more points than what we are scoring."
Whether you're talking about a program in a serious rebuilding mode or a high-powered national title contender like Ohio State that struggled to find its offensive flow early this season, the answer to fixing such issues often lies in finding a way to get all 11 guys on the field to execute their jobs. Beaty acknowledge that individual breakdowns are a problem for his Jayhawks (0-8 overall, 0-5 Big 12) but added that the onus falls on the coaching staff to find a way to squeeze more points out of the offense.
Photo Gallery
Kansas football v. Oklahoma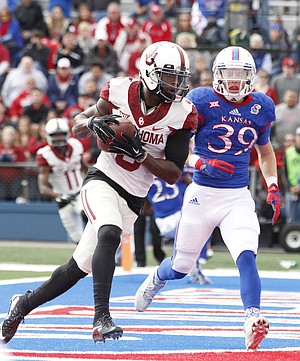 View a gallery of images from Saturday's game between the Jayhawks and Sooners at Memorial Stadium in Lawrence.
"You have to always be looking at what you're doing and trying to find out what is causing you to be inefficient," Beaty said. "Sometimes you have to look at what's on that board and how much time it's taking you to rep all of that. Sometimes you're carrying too much into the game plan. Sometimes you're not carrying enough. Sometimes you don't have the right (plays) to be able to take advantage of what they're doing. Sometimes you might think you might be able to hold up a little bit better in protection than you are actually able to. You just have to make sure that you do a good job of continuing to look to see how you can help them guys be in a better position to execute."
KU's 216 yards of total offense were the fewest gained by the Jayhawks this season and marked the lowest total since the Sooners held the Jayhawks to 103 yards of offense last November.
— See what people were saying about the game during KUsports.com's live coverage.
---
More news and notes from Kansas vs. Oklahoma
---