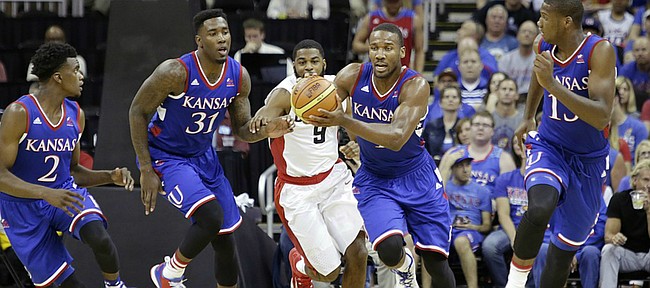 Kansas City, Mo. — When Canadian guard Adika Peter-McNeilly first heard that he and his countrymen were going to face Kansas University in an exhibition game at Sprint Center, his mind immediately flashed back to a former Jayhawk with whom he was pretty familiar.
"When Andrew Wiggins was playing (at KU), Toronto televised every game and we used to watch all of them," said Peter-McNeilly following KU's 91-83 victory in front of a crowd of 8,235 fans on Tuesday night. "Growing up watching the NCAA Tournament, you'd always see Kansas and it was exciting to hear we were going to play Kansas, because it's one of the biggest schools for basketball in America."
Although Wiggins is not a part of Team Canada's roster — made up mostly of the top players from their respective schools in what KU coach Bill Self said was mid-major equivalent — for the upcoming World University Games, in which KU will represent the United States next month in South Korea, the question begged to be asked: who did the guys from north of the border think Wiggins was rooting for on Tuesday night? His country? Or his former school?
"I want to say Canada," Peter-McNeilly grinned.
Added Canadian coach Barnaby Craddock: "A tie."
Photo Gallery
Team USA vs Canada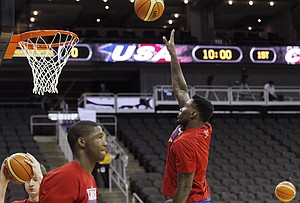 Photographs from the Kansas Jayhawks/Team USA exhibition game against Canada Tuesday June 23, 2015 at the Sprint Center in K.C., MO.
Podcast episode
Kansas basketball coach Bill Self discusses the Jayhawks' approach to international play following KU's summer debut — an exhibition victory over Canada, in Kansas City, Missouri.
Podcast episode
Kansas basketball veterans Frank Mason III, Perry Ellis and Jamari Traylor meet the media Tuesday night at Sprint Center, following the Jayhawks' exhibition win over Team Canada.
For a good chunk of Tuesday's exhibition, a tie looked possible. Canada built an early 10-point lead, KU bounced back to take a five-point lead into the fourth quarter and the final four or five minutes were played with neither team being able to separate from the other by much more than a basket.
During that stretch, the intensity reached a new level, both from the players on the floor and the fans in the stands.
"It's a great opportunity to have a chance to bring our league and our players down here to see where we compare," said Canada's Chris McLauglin, who led the visitors with 15 points and eight rebounds. "We wanted to give it everything we've got and I think we did a good job."
As is the case with so many KU games, no matter if they're at home, on the road or at a neutral side, Craddock said the pro-KU vibe in the building played a huge role in the Jayhawks pulling away in the final few minutes.
"I heard it was about 8,000 or 9,000 (fans)," Craddock said. "But it felt like about 30,000 people. I can see why everyone says the Jayhawks have such great support."
As for Craddock's assessment of a veteran KU team that was still missing a few key pieces?
"They're a good team," he said. "They made some shots down the stretch and we missed. Credit goes to them. They played a good game and deserved the win. We have to learn how to execute a little better down the stretch."
These two teams will battle again Friday night in the same building before heading to South Korea this weekend.
---
More news and notes from Kansas vs. Canada exhibition
---