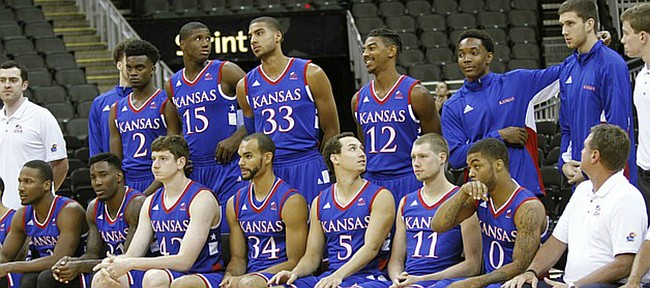 Kansas City, Mo. — In its first tuneup for the World University Games this summer in South Korea, Kansas University went with a starting lineup of Perry Ellis, Frank Mason III, Wayne Selden Jr., Nic Moore and Hunter Mickelson.
Senior forward Mickelson had six boards, a block, steal and assist in 13 minutes.
• All 12 Jayhawks played including walk-ons Evan Manning (one rebound, one turnover, one missed three in four minutes) and Tyler Self (one missed shot, two minutes).
• The crowd was announced at 8,235. About 10,000 seats were available for sale in the lower bowl only. The upper deck was closed.
Photo Gallery
Team USA vs Canada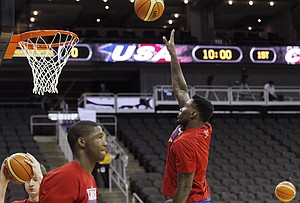 Photographs from the Kansas Jayhawks/Team USA exhibition game against Canada Tuesday June 23, 2015 at the Sprint Center in K.C., MO.
Podcast episode
Kansas basketball coach Bill Self discusses the Jayhawks' approach to international play following KU's summer debut — an exhibition victory over Canada, in Kansas City, Missouri.
Podcast episode
Kansas basketball veterans Frank Mason III, Perry Ellis and Jamari Traylor meet the media Tuesday night at Sprint Center, following the Jayhawks' exhibition win over Team Canada.
• Jamari Traylor reminded the media that Wednesday happens to be his birthday.
• Ellis on adjusting to the FIBA rules: "The shot clock (24 seconds instead of 30) I'd say is the biggest thing. I feel we've got to play faster and get the ball up quicker. The ball feels different. We're adjusting to it. We're shooting with it every day. It's getting better and better."
• The zone: KU played some zone to go with its staple of man-to-man defense. "Our zone is good, obviously. They made threes every possession against it," Kansas coach Bill Self quipped. "We ended up playing man. It was better for us."
---
More news and notes from Kansas vs. Canada exhibition
---