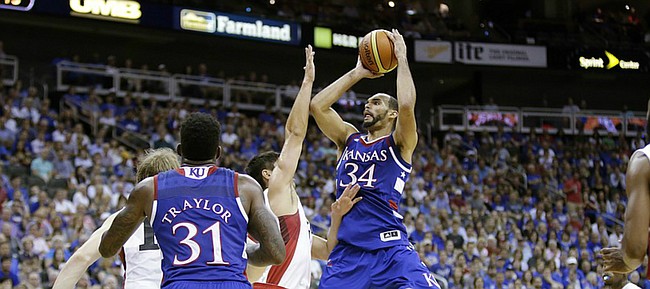 Kansas City, Mo. — It was just a sparring session in advance of a tournament that won't budge the Kansas University basketball team's 2015-16 record from 0-0. Consequently, heading into the night, it didn't feel as if it meant anything.
Then the players started diving for loose balls and exchanging the lead by answering clutch shots with clutch shots and it felt for a while as if the gold medal was at stake.
Even with Team K-USA and Canada trading the lead in the fourth quarter, it wasn't difficult to project the winner because this Bill Self team had something that the past two didn't, a core of tough, unflappable players hardened by years of experience playing in big college basketball games.
Relentless point guard Fearless Frank Mason III, strong, smart, physical wing Wayne Selden Jr., highly skilled forward Perry Ellis and fifth-year strong man Jamari Traylor had been through too many battles to lose this one.
Photo Gallery
Team USA vs Canada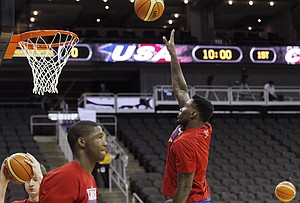 Photographs from the Kansas Jayhawks/Team USA exhibition game against Canada Tuesday June 23, 2015 at the Sprint Center in K.C., MO.
Podcast episode
Kansas basketball coach Bill Self discusses the Jayhawks' approach to international play following KU's summer debut — an exhibition victory over Canada, in Kansas City, Missouri.
Podcast episode
Kansas basketball veterans Frank Mason III, Perry Ellis and Jamari Traylor meet the media Tuesday night at Sprint Center, following the Jayhawks' exhibition win over Team Canada.
Experience translates to calm nerves, smart play and supreme confidence. Experience is why a Stanford can knock off a team armed with a freshman one year before he becomes the NBA Rookie of the Year. It explains why Wichita State can look more like the No. 2 seed than Kansas.
This year, KU will be on the other side of experience mismatches and that can only be a good thing from November through perhaps even early April for the Jayhawks, winners of 11 consecutive Big 12 regular-season titles.
K-USA defeated an older Canada squad, 91-83, because it had more talent and enough experience, just the blend that promises to make this coming season an interesting one for KU, bounced from the Round of 32 in the NCAA Tournament the past two seasons.
Freshman center Cheick Diallo from Mali, tall shooters Sviatoslav Mykhailiuk and Brannen Greene and point guard Devonté Graham weren't available, yet KU didn't look like a team lacking depth. (SMU's Nic Moore came in handy.)
"When we have Devonté, because Devonté is beyond his years, we'll be a hard team to deal with, I think, with Devonté and Frank both out there together taking the pressure off of each other," Kansas coach Bill Self said. "Wayne made some unbelievable, athletic plays. That save he made to Frank for the three was probably as big of a play as there was in the game. But yeah, it's nice. Having a fifth-year senior and a four-year senior, and two three-year juniors out there, we haven't had that since 2012. That turned out OK."
That season, played without a McDonald's All-American, lasted until the final game of the NCAA Tournament.
---
More news and notes from Kansas vs. Canada exhibition
---