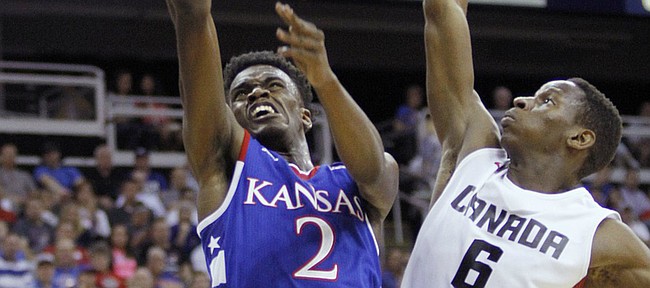 Kansas City, Mo. — Only a few months removed from playing against high school opponents, Kansas University freshmen Carlton Bragg and Lagerald Vick made the most of their Jayhawk debuts in Team USA's 91-83 victory over Canada on Tuesday at the Sprint Center. 
Bragg finished with four points, four rebounds and three steals in 13 minutes, shooting 2-for-8 from the floor. He was a fixture around the free-throw line, never hesitating to take the open jumper. 
On defense, Bragg used his length to poke the ball away and dive on the court for loose balls, making up for any lack of strength against older Canadian players. 
"I really like his game," senior Perry Ellis said of the freshman from Cleveland, Ohio. "He was out there hustling. He played a great game, I feel. Real skilled also, so bright future for him."
Photo Gallery
Team USA vs Canada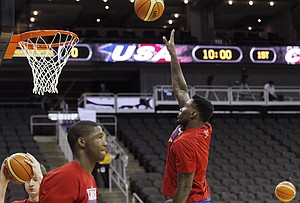 Photographs from the Kansas Jayhawks/Team USA exhibition game against Canada Tuesday June 23, 2015 at the Sprint Center in K.C., MO.
Podcast episode
Kansas basketball coach Bill Self discusses the Jayhawks' approach to international play following KU's summer debut — an exhibition victory over Canada, in Kansas City, Missouri.
Podcast episode
Kansas basketball veterans Frank Mason III, Perry Ellis and Jamari Traylor meet the media Tuesday night at Sprint Center, following the Jayhawks' exhibition win over Team Canada.
Vick missed his first shot, but scored on a fast-break layup in the first quarter, assisted from SMU senior Nic Moore. He added a buzzer-beating layup in the final seconds before halftime, recording four points, one rebound and one steal in 14 minutes, while shooting 2-for-8. 
"I thought they were both pretty good," KU coach Bill Self said. "They don't know what they're doing, obviously. Legerald tries hard and his man just goes around him whenever he wants to. Carlton is not physically strong yet to, you know, get rebounds in traffic and stuff."
"But I think you can tell Carlton is going to be really good," Self added. "That's obvious. Legerald is a freakishly long, quick-twitch athlete that when he gets comfortable, he'll be very good, too. So I think that's pretty encouraging seeing those two out there. I thought they both did fine."
If there were any nerves during their first few minutes on the court, Bragg and Vick tried to hide it with their hustle. The upperclassmen are doing their best to help Bragg and Vick get acclimated to the college ranks. 
"I feel like I was talking to Carlton and Legerald the whole time in the game," senior Jamari Traylor said. "I feel like that's my role to help guys out when I can because I know a lot. Being here, I know what coach expects from guys."
---
More news and notes from Kansas vs. Canada exhibition
---