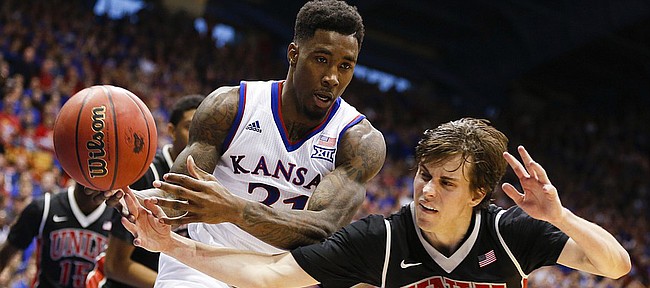 Photo Gallery
Kansas basketball v UNLV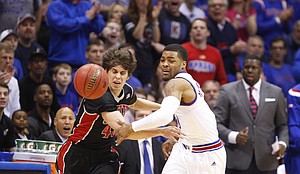 Images from Sunday's game between the Jayhawks and Rebels at Allen Fieldhouse
Podcast episode
Kansas basketball coach Bill Self discusses his team's recovery from a four-point halftime deficit at home, against UNLV. Self says the Jayhawks' second-half shooting from three-point range (5-for-8) and aggressive takes to the rim changed the game in KU's favor.
Podcast episode
Kansas basketball players Frank Mason III, Wayne Selden Jr. and Cliff Alexander discuss the Jayhawks' second-half recovery Sunday afternoon versus UNLV, which led to a 15-point KU win in the team's non-conference finale.
KANSAS 76, UNLV 61
When UNLV coach Dave Rice watched his team knock off No. 3 Arizona in December, back in Las Vegas, he pointed to the Runnin' Rebels' 13-rebound advantage on the glass as one of the biggest reasons for the upset.
Sunday, during a 76-61 loss at 13th-ranked Kansas, Rice and company were on the other side of the rebounding battle and paid for it dearly.
Kansas, which improved to 11-2 after the hard-fought non-conference finale, out-rebounded UNLV (9-5) 45-31 on Sunday, including 17-7 on the offensive end.
"We had trouble rebounding the ball early in the season," Rice said. "But in the last four games, including Wyoming, Utah and Arizona, we out-rebounded all those teams, and then today we gave up 17 offensive rebounds. We just did not do a good enough job with our guards getting rebounds."
Rice put at least part of the blame on his backcourt because the UNLV big men held their own with KU's big bodies.
"Christian (Wood, 8 rebounds) and Goodluck (Okonoboh, 7) and Dwayne (Morgan, 1) were all tied up with their big guys and our guards have to do a better job of getting in there and getting rebounds," Rice said. "A big part of that is that Kansas is very physical, athletic team."
Look no further than freshman forward Kelly Oubre Jr. for proof of that claim. Despite the fact that 10 players suited up for Sunday's game were listed as taller than the 6-foot-7 Oubre, the freshman who played his high school ball at Findlay Prep in Las Vegas, led everyone with 10 rebounds, eight of them on the defensive end.
"He just continues to get better," Rice said of Oubre, whom he saw play plenty in person during the past couple of years. "He is a versatile guy, that's the first word that comes to mind is versatility. He can handle the ball. He can score on the block. He is a perfect complementary guy for their team. He is going to be a fantastic player."
Coming up short in the battle of the boards was a big reason the Rebels lost on Sunday. But it was far from the only reason. After surviving a surge from Kansas that saw the home team race out to a 13-4 lead, UNLV actually led by four at halftime. The lead was short-lived, though, as KU scored the first seven points of the second half and never trailed after that.
UNLV senior Cody Doolin said KU's defensive intensity had a lot to do with the Jayhawks' strong second half.
"Their pressure affected us a little bit," said Doolin, who finished with 12 points and 7 assists in 36 minutes. "We just have to be a little stronger and tougher."
Added Rice: "We gotta start second halves better for sure. But they didn't out-effort us in the second half, they just out-executed us."
Despite the loss, Doolin said Sunday's experience, which was the first of its kind for most players on the UNLV roster, was something he thought would serve the well the rest of the season.
"If you can play well in this building, you can probably play well anywhere," Doolin said. "It was really fun for all of us, even though we lost. It doesn't get any better than that in college basketball. I think we'll learn from it and I think it'll help us in the long run."
More news and notes from Kansas vs. UNLV
---