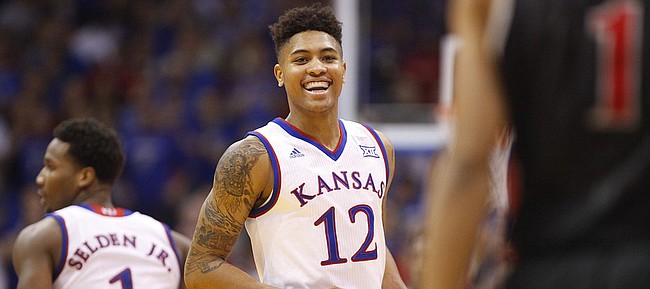 Photo Gallery
Kansas basketball v UNLV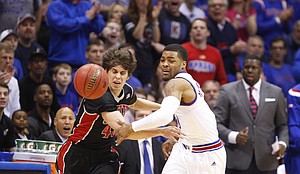 Images from Sunday's game between the Jayhawks and Rebels at Allen Fieldhouse
Podcast episode
Kansas basketball coach Bill Self discusses his team's recovery from a four-point halftime deficit at home, against UNLV. Self says the Jayhawks' second-half shooting from three-point range (5-for-8) and aggressive takes to the rim changed the game in KU's favor.
Podcast episode
Kansas basketball players Frank Mason III, Wayne Selden Jr. and Cliff Alexander discuss the Jayhawks' second-half recovery Sunday afternoon versus UNLV, which led to a 15-point KU win in the team's non-conference finale.
KANSAS 76, UNLV 61
Kelly Oubre Jr. remembers watching Wayne Selden Jr. disappear from the TV screen a year ago as the Kansas University guard tumbled into the Allen Fieldhouse stands to save a loose ball in a thrilling ESPN Big Monday victory over Baylor.
On Sunday, KU freshman Oubre witnessed an encore from Selden up close and personal. 
Selden left his feet to retrieve a ball that appeared headed out of bounds near the scorer's table in the backcourt, with KU nursing a one-point early-second half lead versus UNLV's Runnin' Rebels. While sliding, the 6-foot-5 soph from Roxbury, Massachusetts batted it hard with his right hand over to Perry Ellis, who pitched to point guard Frank Mason III for a driving layup that proved infectious in the Jayhawks' 76-61 victory in Allen.
"Coach stresses that's what wins championship, plays like that," said Oubre, who scored 12 points and grabbed 10 rebounds on a day the (11-2) Jayhawks out-boarded the (9-5) Rebels, 45-31. Oubre also played great defense on former Las Vegas Findlay Prep teammate Rashad Vaughn, who scored 10 points off 4-of-10 shooting, with just two points the final half.
"When we do things like that, it boosts our confidence and gets us going a little bit," Oubre added of Selden's heroics.
Selden — he hit three early threes that propelled KU to a 13-4 lead and cashed another during a 23-6 run that turned a 51-49 deficit into a 72-57 lead — was asked to rate this year's highlight-reel play with the one versus Baylor.
"I don't know. It was probably pretty equal, seeing we scored off both of them," Selden said with a smile. 
Indeed, last year's play resulted in a bucket by Joel Embiid.
"We need more of that," added Selden, who finished with 16 points and three boards in 37 minutes. "We didn't have much of that last year. This year not too much. We're trying to get more hustle plays, get on the ground as a team. That will spark energy."
Selden's hustle play came shortly after a dandy drive and dunk by Jamari Traylor (nine boards, four points, three blocks) that tied the game at 33 early in the second half. UNLV had led by four at the break, Traylor waking up the team and the crowd a bit with the vicious slam.
"That was a huge energy boost. I think that helped us out a lot, got the guys going, got the bench more into it," said point guard Mason, who had 18 points, seven assists, four steals and two turnovers in 38 minutes.
Coach Bill Self said the play by Traylor "changed the whole game from an energy standpoint. Jamari is actually the fastest (player) we have in transition."
Of Selden's dive and resulting bucket on the other end, Self noted: "That's the kind of play that should give your team confidence to not only win games, but develop an identity for yourself. We've not had many plays like that this year. That was great."
Selden drilled a three to open a 9-0 run that stretched a 63-57 lead to 15 points at 3:39. Selden also hit two free throws, while Cliff Alexander scored four points in the surge. Alexander scored 10 points off 5-of-12 shooting and had five boards in 21 minutes. Ellis had 16 points, nine boards and three assists.
"We treated this game like a conference game since everybody else was playing (conference games)," said Self, whose Jayhawks lost a home game to San Diego State on the first Sunday of January last season, heading into Big 12 action on a low note. "UNLV is good enough, talented enough to do well in our league. They've got real guys — two real, real guys," Self added of Vaughn and Christian Wood (12 points off 5-of-12 shooting, eight boards, 37 minutes)."
KU outscored UNLV, 47-28, the final half. The Jayhawks hit 60 percent of their second-half shots after struggling to 32.4 percent the first half. KU hit 44.8 overall to UNLV's 40.7 percent mark.
"Defensively we got into rhythm and rebounded the heck out of the ball," Self said. "We did a good job pushing it. I thought all our guys played well. Jamari was great. He set the whole tone the second half. Perry was Perry, rock solid. Kelly did a terrific job on Vaughn. Wayne was great and Frank ... he was awesome, awesome.
"I don't know if we've ever leaned on a player as we've leaned on Frank, maybe Thomas (Robinson) or Tyshawn (Taylor), maybe Wayne (Simien). He's done a little bit of everything for us. The kid does play. He played great," Self gushed.
KU will open the Big 12 season against Baylor at 8 p.m., Wednesday, in Waco, Texas.
More news and notes from Kansas vs. UNLV
---