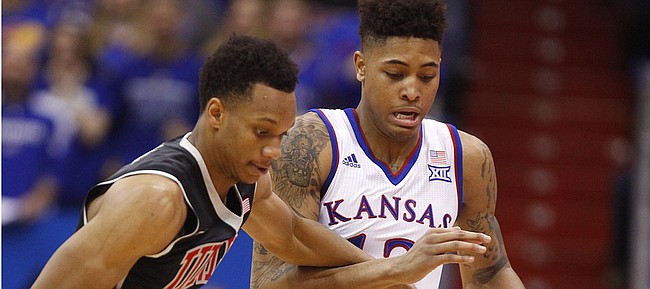 Photo Gallery
Kansas basketball v UNLV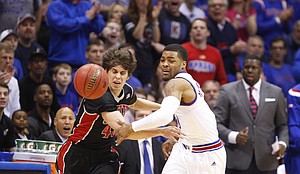 Images from Sunday's game between the Jayhawks and Rebels at Allen Fieldhouse
Podcast episode
Kansas basketball coach Bill Self discusses his team's recovery from a four-point halftime deficit at home, against UNLV. Self says the Jayhawks' second-half shooting from three-point range (5-for-8) and aggressive takes to the rim changed the game in KU's favor.
Podcast episode
Kansas basketball players Frank Mason III, Wayne Selden Jr. and Cliff Alexander discuss the Jayhawks' second-half recovery Sunday afternoon versus UNLV, which led to a 15-point KU win in the team's non-conference finale.
KANSAS 76, UNLV 61
Kansas University freshman Kelly Oubre Jr. guarded his former Findlay Prep teammate, Rashad Vaughn, much of KU's 76-61 win over UNLV Sunday at Allen Fieldhouse.

Oubre had 12 points and 10 boards in 35 minutes; Vaughn 10 points and four boards in 27 minutes.
"It was good to bring back that rivalry we had in practice every day last year," Oubre said.
"We are very competitive. Last year it was amped up every day in practice. Now we know we have to be smart. We're at the next level. We were just saying (on court), 'Keep going hard. Keep going hard. You go at me and I at you.'
"He hit a three and patted me on the butt. That's him being competitive," Oubre added. "In the second half it was a different story. That was my response. I didn't do much talking. I tried to let my actions do it."
Vaughn scored two points the final half off 1-of-6 shooting.
"He won't admit to this. I think he was into a personal deal a little bit," coach Bill Self said of Oubre going against his buddy. "When he said, 'Just go play,' he was so much better and his production was even better in a personal deal."
Cliff's line: Cliff Alexander had six points off 3-of-5 shooting and a block in 11 minutes the second half after scoring four points off 2-of-7 shooting with five boards in 10 minutes the first half.
"Coach told me at halftime I needed to start playing with a bigger motor. That's what I tried to do," the freshman big man said. "Go after every ball and dunk everything I could."
Stats, facts: KU is 5-0 all-time versus UNLV. ... KU has won 15 straight in Allen. ... KU had five or more players reach double figures for the second time. ... KU out-boarded the Rebels on the defensive glass (28-24), despite the fact that UNLV ranked fourth in the country with 29.5 defensive boards per game entering Sunday. ... KU had a season-high 45 rebounds. ... KU has trailed at halftime five times. ... KU had 19 fast-break points to UNLV's four. ... KU has made 30-of-51 free throws over its last two games (58.5 percent). ... Wayne Selden Jr. hit a season-best four threes. ...  Frank Mason III extended his double-digit scoring streak to 10-straight games. He had a career-best four steals. ... Mason has 23 assists to nine turnovers over the last four games. Oubre has made 24-of-45 shots (53 percent) over the last four games.
More news and notes from Kansas vs. UNLV
---