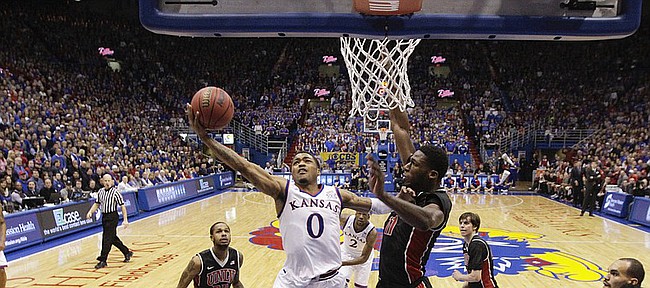 Photo Gallery
Kansas basketball v UNLV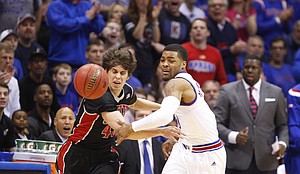 Images from Sunday's game between the Jayhawks and Rebels at Allen Fieldhouse
Podcast episode
Kansas basketball coach Bill Self discusses his team's recovery from a four-point halftime deficit at home, against UNLV. Self says the Jayhawks' second-half shooting from three-point range (5-for-8) and aggressive takes to the rim changed the game in KU's favor.
Podcast episode
Kansas basketball players Frank Mason III, Wayne Selden Jr. and Cliff Alexander discuss the Jayhawks' second-half recovery Sunday afternoon versus UNLV, which led to a 15-point KU win in the team's non-conference finale.
KANSAS 76, UNLV 61
If trying to figure out how Kansas University's sophomore point guard Frank Mason III manages to finish at the rim so accurately against players a foot taller, don't feel bad. You're not alone.
Maybe Wayne Selden Jr. has the answer.
"I don't know," Selden said. "I'm trying to figure it out so I can do it. He's doing a great job with it."
The point guard's the guy whose responsibility it is to make teammates practice better, feel better about themselves and in turn play better in games.
Mason not only plays like that, he sound like it. Asked how he scores so well in big-man country, Mason threw credit to four teammates.
"That's something I always work on in practice," Mason said. "We've got Cliff (Alexander, Landen (Lucas), Perry (Ellis) and Jamari (Traylor), so I work on things like that during practice."
Nice of Mason to praise them, because playing against them does make him better. But they don't have anything to do with how he gets up so high, so quickly, contorts his body to shield the defender, and puts up soft shots off the right spot on the glass while all that other stuff is going on around him. That comes from natural physical gifts, basketball smarts and an insatiable desire to improve through working at it. Mason grades straight A's in all those areas.
The only healthy scholarship point guard on the roster at the moment, Mason played through a sore shin that left him limping a couple of different times and delivered 18 points, seven assists, four rebounds and four steals in 38 minutes of a 76-61 victory against a young, talented UNLV team that had defeated Arizona and Temple.
"He's the guy who makes that whole thing go," Vegas coach Dave Rice said of Mason.
Of late, Mason has made Kansas go faster both as quarterback and receiver on the break. He starts breaks as well as he finishes them for a team better in transition than in the half court. Still, when defenses retreat sufficiently, Mason's the main man in seeing that good shots are taken and he accomplishes that with the steady pressure he puts on the defense.
"He's the guy who organizes and gets the ball where it needs to get to," Rice said. "He was the guy who was first on our scouting report."
When asked how unusual it is for a player Mason's size to score against length, Rice launched into everything he admires about Mason's game.
"I think that's obviously why he was recruited to Kansas because he's a fantastic player and he'll be one of many in a long tradition of great guards at Kansas," Rice said. "He is certainly somebody who can help them make a deep run in the NCAA Tournament.
"You don't fully appreciate him until you watch him play a few times. He just always makes the right play, plays at a great pace. When his team needs a basket, he scores a basket. Most of the time, he's the guy who makes the play, gets it to an inside player, or hurries it up on the break or gets a steal. He just makes all the right plays."
Mason's hard drives to the hoops resulted in Alexander being left alone on the baseline. Mason found him quickly, and Alexander cashed in first with a short jumper and then dribbled himself to a dunk, a pair of plays that helped Alexander's confidence, which is coming along.
Mason's play might surprise many, but he's not among them.
"I always knew I was capable of playing this well, even though I still don't think I'm playing to my full potential," Mason said. "I'm trying to do what my teammates need me to do and what coach wants me to do."
Trying and succeeding.
More news and notes from Kansas vs. UNLV
---