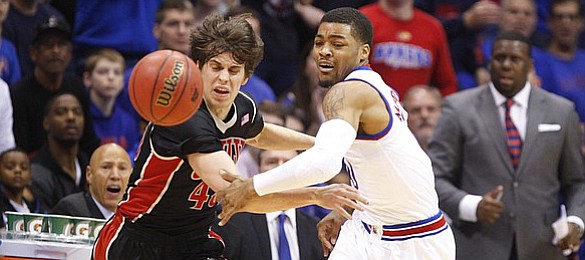 Photo Gallery
Kansas basketball v UNLV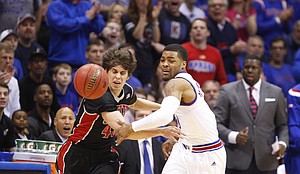 Images from Sunday's game between the Jayhawks and Rebels at Allen Fieldhouse
Podcast episode
Kansas basketball coach Bill Self discusses his team's recovery from a four-point halftime deficit at home, against UNLV. Self says the Jayhawks' second-half shooting from three-point range (5-for-8) and aggressive takes to the rim changed the game in KU's favor.
Podcast episode
Kansas basketball players Frank Mason III, Wayne Selden Jr. and Cliff Alexander discuss the Jayhawks' second-half recovery Sunday afternoon versus UNLV, which led to a 15-point KU win in the team's non-conference finale.
KANSAS 76, UNLV 61
With big-time athletes on both sides of the floor and highlight-worthy plays coming on both ends, the Kansas University men's basketball team closed out the non-conference portion of its 2014-15 schedule with a 76-61 victory over UNLV at Allen Fieldhouse on Sunday afternoon.
For what seemed like the 100th straight game, sophomore point guard Frank Mason III again proved to be this team's most valuable player, leading the Jayhawks when they needed to be led, scoring when scoring was needed and playing tough from start to finish to pace KU to its 11th victory of the season.
Mason, in 38 minutes, scored 18 points, and added 7 assists and 4 rebounds.
KU, of course, got contributions from others — most notably Wayne Selden Jr.'s hot shooting from three-point range (4-of-8, 16 points) — but without Mason things may very well have turned out differently in this one.
Perry Ellis (16 points) mixed good moments with bad, Cliff Alexander (10) put together a second consecutive strong second half and Kelly Oubre Jr. (12) added a couple of big-time shots when the Jayhawks needed them.
The game went back-and-forth for a while in the second half, with UNLV (9-5) refusing to go away. But KU (11-2) broke a 51-all tie with a 23-8 run.
Here's a quick look back at some of the action:
• The game turned when: KU opened the second half with seven straight points to reclaim the lead and control. After jumping out to a 13-4 lead, the Jayhawks were outplayed for most of the first half and trailed 33-29 at the break. But Ellis, Traylor and Oubre all scored in the opening minutes of the second half and KU looked like the more hungry, more aggressive team again.
• Offensive highlight: It was a pretty simple play but it illustrated perfectly how little details can be a big deal. After a missed jump shot by UNLV on one end, KU pushed the ball up the floor and got Ellis a quick shot from the block on the other. The shot missed but Alexander, who had raced down from the paint on the other end, slipped right past UNLV's Christian Wood, who never saw him coming, and stood no chance of holding him off. After Alexander got position, he ripped the ball out of the air, shoved the thinner Wood aside and then threw down a nasty, one-handed dunk to put Kansas up 19-12. Honorable mention here goes Jamari Traylor for going coast-to-coast for a vicious slam early in the second half, and to UNLV forward Goodluck Okonoboh, who flushed a reverse slam after going under the rim in the first half.
• Defensive highlight: With just under 16 minutes to play in the game, Mason knocked the ball loose from UNLV's Wood and that started a wild series in which bodies were all over the floor and the fans turned more fevered by the second. Traylor, on his back near the UNLV free throw line, wound up with the ball but quickly tried to flip it to a teammate.
• Key stat: Rebounding. No question. UNLV knocked off Arizona in large part because of its work on the glass. But Kansas got the best of the Rebels on the boards in this one, out-rebounding them 45-31, including 16 offensive boards.
• Up next: The Jayhawks will hit the road on Wednesday for their Big 12 Conference opener, 8 p.m. against Baylor in Waco, Texas. The game will be shown on ESPNU. 
— See what people were saying about the game during KUsports.com's live blog.
More news and notes from Kansas vs. UNLV
---