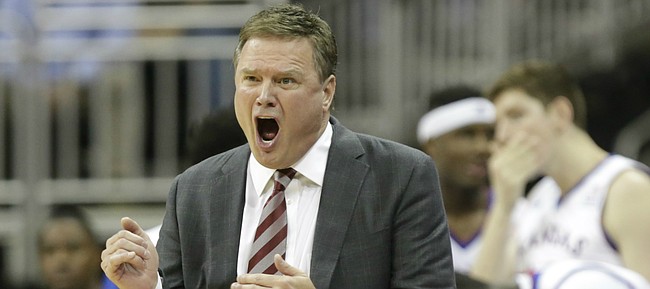 Kansas City, Mo. — Kansas University basketball coach Bill Self enjoys the Jayhawks' annual holiday game in the Sprint Center.
"I do like it. I think the players do, too. It's fun playing at home. Allen Fieldhouse is definitely the best place to play. There's a security blanket playing there (Allen), at least our players feel that way. This is a little different. It's great preparation for the Big 12 tournament," Self said.
The Jayhawks improved to 28-6 all-time in the KC arena by downing Oregon State, 82-67, on Saturday.
"It's a great deal for our fans to go spend the day in Kansas City, shop during the day and get an early dinner and watch the Jayhawks compete," Self said. "Allen Fieldhouse trumps everything. I love playing in the Sprint Center when we can't play there."
Photo Gallery
Kansas basketball v. Oregon State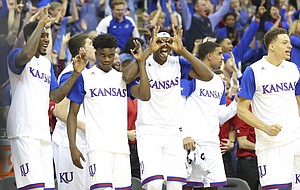 Images from the Jayhawks' Saturday night game against Oregon State at Sprint Center.
For a bit Saturday, it looked as if KU might drop its third holiday/Sprint Center game in the Self era. KU trailed the Beavers, 39-28, at the half.
KU lost to Davidson in 2011-12 and UMass in 2008-09. KU has defeated Oregon State (twice), Utah, New Mexico, Colorado State, LaSalle, Ohio, Toledo, Cal, Wisconsin-Milwaukee and Oregon in the holiday game in Sprint Center in the Self era.
This, that: KU is 2-0 all-time versus Oregon State, with both wins in Sprint Center. ... KU is 213-80 all-time in games played in Kansas City. ... Self is 360-79 while at KU and 567-184 all-time. ... KU is 2,161-832 all-time. ... KU in Sprint Center won the 2008, 2010, 2011 and 2013 Big 12 Championships in the venue and the 2012 CBE Classic. ... Kansas played 106 games in Kemper Arena with an 81-25 record.
Upcoming promotion: KU athletics will attempt to break the Guinness world record for "largest gathering of people wearing holiday sweaters" during the KU-Montana game, set for a 1 p.m. tip on Dec. 19 in Allen. The current record is 1,175 people set Dec. 10, 2014, at Loughborough University in Loughborough, United Kingdom. A holiday sweater is defined "by having long sleeves and at least one holiday themed item on it (i.e. reindeer, trees, snowman, peppermint candies, lights, etc.)." ... KU's annual holiday clinic for boys and girls ages first through sixth grade will be noon until 3 p.m., Dec. 27 in Allen. There will be no walk-up registration. To sign up go to www.billselfbasketballcamp.com.
— See what people were saying about the game during KUsports.com's live coverage
---
More news and notes from Kansas vs. Oregon State
---