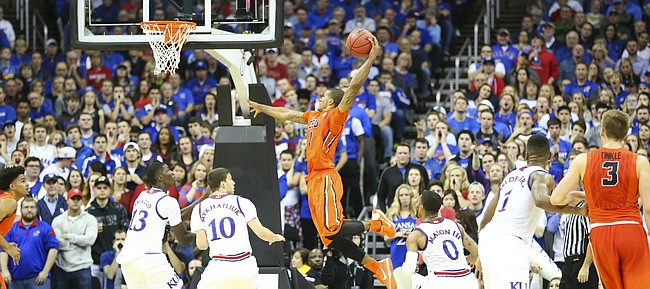 Kansas City, Mo. — Oregon State senior Gary Payton II — son of former NBA great Gary Payton — entered OSU's matchup with No. 2-ranked Kansas University leading the Beavers in scoring, but it was another father-son combo that stole the show for the first half Saturday at Sprint Center.
OSU freshman Tres Tinkle — son of Beavers head coach Wayne Tinkle — poured in a career-high 20 points to lead Oregon State in its 82-67 loss to the Jayhawks.
Tinkle knocked down five of seven from three-point range, with all five coming in the first 15 minutes and 35 seconds.
"My teammates just found me," Tinkle said. "All season, really, I've been in a little bit of a funk. The coaches and teammates just kept supporting me and being there for me, just telling me to keep shooting."
Photo Gallery
Kansas basketball v. Oregon State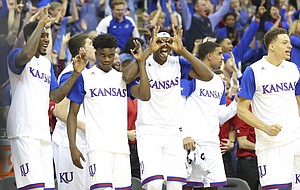 Images from the Jayhawks' Saturday night game against Oregon State at Sprint Center.
The 6-foot-8 freshman's previous career-high was 14 points in the Beavers' season opener against Northwest Christian, and he was 3-for-15 entering Saturday's contest.
Tinkle fueled the Beavers to a 39-28 halftime advantage, but the Jayhawks locked in on him after the break — limiting him to four points on 1-of-3 shooting.
"They switched when Tres was involved with screens, whether it was a point guard or a big," the OSU coach said. "He knows to roll that switch and post a little. We didn't really get to that."
The defensive adjustments by the Jayhawks help force the Beavers to turn it over 18 times. Kansas used a 14-0 run early in the second half to seize control, and Oregon State was unable to bounce back from it.
"In the first half, they made a run — we answered it," Payton said. "They came out with a second run, and we didn't answer it like we did the first one. That's when they kind of pushed the lead out."
Payton — who leads the Beavers in points, assists, rebounds and steals — was three dimes shy of a triple-double. The senior guard recorded 13 points, 11 rebounds and seven assists with his father on hand. The elder Payton is the franchise record-holder in points, assists and steals for the Seattle Supersonics (now Oklahoma City Thunder).
Podcast episode
Kansas basketball coach Bill Self speaks with reporters about the Jayhawks' comeback victory over Oregon State at Sprint Center, and how KU pulled it off by relying on a shortened, six-man rotation.
Payton filled the stat sheet, but he saw his streak of 38 straight games with at least one steal end against the Jayhawks. Payton broke his father's record of 37 consecutive games with steal against Nevada on Dec. 5.
Although Payton's steals streak was snapped, Kansas coach Bill Self said that did not take away from how the OSU guard played, and noted that his dunk over KU's Cheick Diallo and Svi Mykhailiuk was one he would not soon forget.
Podcast episode
After each logged 35 minutes or more Saturday against Oregon State, Kansas guards Frank Mason III, Wayne Selden Jr. and Devonté Graham discuss how the Jayhawks recovered at Sprint Center to defeat the Beavers.
"I'm not going to say anything negative about Gary, because I thought he played very well. A do-everything guard that goes 13, 11 and seven," Self said. "He gets above his averages basically on the main three categories, or almost his average in scoring, so I thought he had a good night. He posterized us obviously on the play in the first half."
The Beavers (6-2) lost their only other matchup in program history in Sprint Center as well, when the Jayhawks handed them a 84-78 setback on Nov. 30, 2012.
— See what people were saying about the game during KUsports.com's live coverage
---
More news and notes from Kansas vs. Oregon State
---