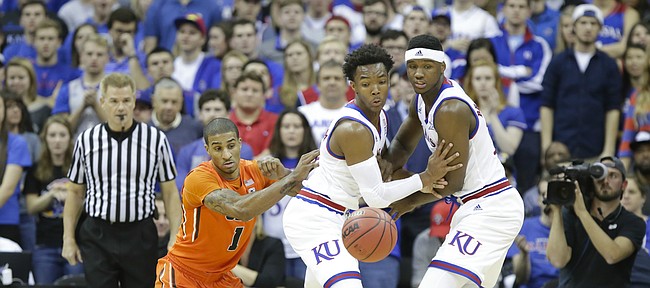 Kansas City, Mo. — When Bill Self needed a victory Saturday night at Sprint Center and decided the best way to get one would be shortening his bench in the second half, Kansas University's basketball coach knew only one of the four big men sitting near him would get a crack at helping the Jayhawks rally.
A mini-debate broke out in Self's head: Carlton Bragg Jr. or Cheick Diallo? The freshman playing in his ninth game or the freshman playing in his fourth game?
Picking between young McDonald's All-Americans, Self ultimately chose the first-year stud he thought would fit best in KU's second-half game plan against Oregon State. 
"I decided to go with Carlton, and I'm glad I did, because I thought he played great," Self said after he trusted his gut, and KU turned an 11-point halftime deficit into an 82-67 victory. "I thought he was really good the second half."
Photo Gallery
Kansas basketball v. Oregon State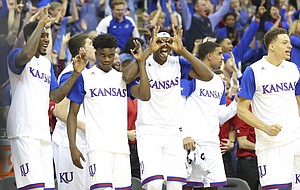 Images from the Jayhawks' Saturday night game against Oregon State at Sprint Center.
A 6-foot-9 forward from Cleveland, Bragg was the only player not named Perry Ellis, Hunter Mickelson, Wayne Selden Jr., Frank Mason III or Devonté Graham to see the floor until Self emptied the bench with No. 2 Kansas in total control late.
Bragg scored six of his eight points in the second half, pulled down three of his four rebounds in his eight second-half minutes, and during one span became a low-post point guard of sorts, dishing assists on three consecutive Kansas baskets.
With Kansas (8-1) up seven midway through the second half following a Bragg offensive rebound and put-back, the big man flashed his passing skills along with his trademark grin. 
Bragg found Selden for a jumper, hit Graham for a three-pointer, then dished a pass to Mason for a layup. 
His three assists marked a career high for the freshman, but the distribution didn't surprise Selden.
"He's a good passer," the game's leading scorer (22 points) said of Bragg. "He really looks for the open teammate. And him being able to knock down that mid-range shot really opens it up for him."
Podcast episode
Kansas basketball coach Bill Self speaks with reporters about the Jayhawks' comeback victory over Oregon State at Sprint Center, and how KU pulled it off by relying on a shortened, six-man rotation.
However, Self had the Beavers' offense in mind when picking Bragg as the lone substitute in his six-man, second-half rotation.
"To me he was the best guy," Self said, "because if we were gonna switch ball screens and do things like that, he's better than Cheick at getting out and guarding and doing some things."
Bragg's activity is his biggest strength right now, as he keeps getting acclimated to college basketball. When he's not moving his feet better than most men his size can or crashing the offensive glass, he's catching lobs and finishing slams.
Podcast episode
After each logged 35 minutes or more Saturday against Oregon State, Kansas guards Frank Mason III, Wayne Selden Jr. and Devonté Graham discuss how the Jayhawks recovered at Sprint Center to defeat the Beavers.
As with most of KU's bigs, Bragg's minutes have ebbed and flowed this season as Self tries to figure out his rotation — something he'd like to achieve by the start of Big 12 play.
With three games remaining until the Jayhawks face Baylor on Jan. 2, the distribution of front-court minutes remains a we'll-see-what-works-tonight kind of work in progress.
"Right now what I would hope to see is some separation between our bigs," Self said, admitting he still doesn't know who to put in the game sometimes when choosing between Mickelson, Bragg, Diallo, Landen Lucas and Jamari Traylor. "Because it's hard to give everybody a chance when everybody's about the same in practice."
As well as Bragg and Mickelson (seven points, six rebounds, two blocks) played against Oregon State (6-2), it still seems Self hasn't settled on anything or anybody when it comes to big-man minutes — except of course that Ellis will play as much as possible.
In the search to find the perfect compliment for Ellis, Bragg made his case in the second half. But that doesn't mean Self will employ this shortened-bench strategy again. 
"It's a little frustrating to me," KU's coach said, "not knowing exactly what to do, because every situation seems like takes on a whole different personality."
Let the debate continue.
— See what people were saying about the game during KUsports.com's live coverage
---
More news and notes from Kansas vs. Oregon State
---