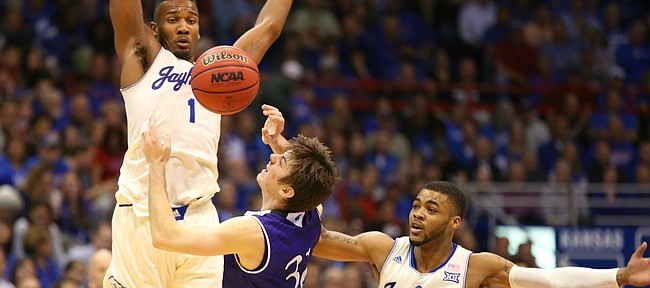 Hands on his head, smile on his face, Holy Cross coach Bill Carmody conjured up a quote from legendary boxer Mike Tyson — minus the high-pitched voice — to explain his team's 92-59 loss to No. 2 Kansas University at Allen Fieldhouse.
"What was that Mike Tyson (said)?" asked Carmody while trying to rehash his team's strategy Wednesday night. "'Everyone's got a plan till I punch 'em in the mouth.' We had a plan, yeah, but it wasn't quite successful."
Far from it, in fact. And a huge portion of Holy Cross's plan was to close out on KU's shooters and get back on defense. Yet, there the Crusaders were, on the first possession of the game, getting caught with their hands down and distance between them as KU's Wayne Selden Jr. rose up and drained a game-opening three-pointer.
Photo Gallery
Kansas basketball v Holy Cross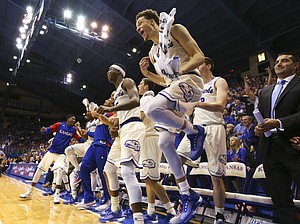 Images from the Jayhawks' Wednesday night game against the Crusaders at Allen Fieldhouse
The triple by Selden was merely a sign of things to come. KU shot 63 percent for the game, 70 percent in the first half and finished 12-of-20 (60 percent) from three-point range.
"We knew who the shooters were," said Carmody, whose team fell to 3-6. "But even on the first play, my guy goes out, and he's, like, three feet from (Selden), and he just banged it. That's in the scouting report."
Podcast episode
Kansas basketball coach Bill Self discusses the return of junior guard Brannen Greene (14 points) and the impact that had on the No. 2-ranked Jayhawks' 92-59 victory over Holy Cross.
Carmody marveled at several elements of this KU squad. Ball movement, making the extra pass, shooting and depth all were a part of Carmody's dissection of Bill Self's team, but none of the specifics carried as much weight as a single generality.
"They just seem like a veteran team," Carmody said.
During KU's first eight games of the 2015-16 season, opponents have tried a variety of strategies to slow down the Jayhawks (7-1). Some teams have packed the paint and dared Kansas to beat them from the outside. Others have played the perimeter and done their best to try to handle KU's size inside.
Podcast episode
After Brannen Greene returned to the Kansas basketball lineup and the Jayhawks rolled in a 92-59 victory over Holy Cross, Greene, Wayne Selden Jr. and Cheick Diallo discuss the win with media members.
Carmody's focus was on slowing the game down, taking time on offense and forcing Kansas to do the same.
"I actually told the team, 'Do not go near an offensive rebound,'" Carmody said. "'A shot goes up, just get back.' And they still beat us down the court a lot."
KU outscored Holy Cross 40-14 in the paint and outrebounded the Crusaders 31-17. But the 17-2 edge in transition, where Carmody said it felt like Kansas scored 40 of its 92 points, was the part that was most disheartening for the visitors.
"Their length and speed," freshman forward Karl Charles said when asked the toughest part about facing Kansas. "They were always swarming to the ball, and they were a lot bigger and stronger. (They) have big guys like (Brannen) Greene and (Perry) Ellis, who are moving like guards, and it's something we aren't used to."
— See what people were saying about the game during KUsports.com's live coverage
---
More news and notes from Kansas vs. Holy Cross
---
---
---