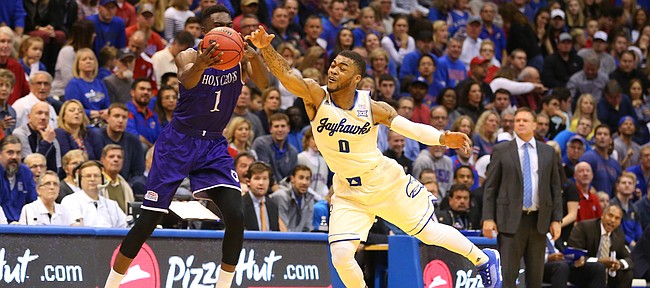 With a 92-59 beating on Wednesday, Kansas University improved its all-time record against Holy Cross to 3-1.
The Bob Cousy-led Crusaders won the first meeting, 57-53, on Dec. 20, 1949, in a game played in Boston.
Holy Cross went on to finish that season, 27-4, losing the final two games in the regular season, then falling to North Carolina State in an East Regional semifinal and also to Ohio State in the East Regional third-place game. KU went 14-11 that season.
"Bob Cousy was a great player, later a great pro player," former KU player and assistant coach Jerry Waugh said on Bill Self's Hawk Talk radio show. Waugh had the defensive assignment on Cousy that '49 contest.
Photo Gallery
Kansas basketball v Holy Cross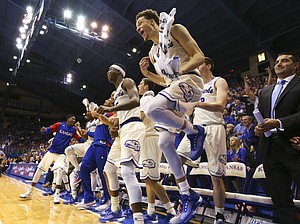 Images from the Jayhawks' Wednesday night game against the Crusaders at Allen Fieldhouse
"It was a close ballgame all the way. He controlled the ball pretty well. The thing that stands out in my mind ... he stole the ball from Clyde (Lovellette) at the timeline, went down and got an easy layup," Waugh said. "Lovellette took the ball out of bounds, threw it back in, and Cousy intercepted the pass right under the goal and scored again. It was a quick four points, which really hurt us at the time. That's the thing I will always remember," Waugh added, laughing, "because part of my responsibility that particular game was to guard Cousy. I hated giving away a cheap four points. That's a scar on my soul I'll never get over.
"I've not seen Clyde lately. I will bring it up when the time comes," Waugh joked.
Waugh recalled he and Lovellette appearing on a radio quiz show, "Break the Bank," on that trip.
Podcast episode
Kansas basketball coach Bill Self discusses the return of junior guard Brannen Greene (14 points) and the impact that had on the No. 2-ranked Jayhawks' 92-59 victory over Holy Cross.
"We won $100 on the show. I gave my half of the $100 to my teammates and Clyde kept his," Waugh said. "When Doc (Phog Allen) found out about it he made Clyde share with the rest of the guys. That's when Doc said, 'The Big Turkey gets all the grain.' That's the story about Clyde (that he gets teased about). He's a good guy, a friend and friendly person and a lot of fun to be around," Waugh added of Lovellette on Hawk Talk. "He was growing up as a young man."
As former Journal-World managing editor Bill Mayer pointed out in a 1999 column: "Phog's 'Big Turkey' label for Clyde stuck."
In 2002, KU defeated Holy Cross, 70-59, in a first-round NCAA Tournament game in St. Louis. The Jayhawks also prevailed, 81-57, on Nov. 19, 2002 in Allen Fieldhouse.
Famous grad part two: Holy Cross also is the alma mater of Tom Heinsohn, who has been inducted into the Naismith Memorial Hall of Fame as a player and coach.
"We saw Tom Heinsohn at the Hall of Fame (2015 induction ceremony)," KU coach Bill Self said. "He looked as good and crusty as ever in Springfield. Holy Cross has a lot of history. Holy Cross used to be, I'm not saying they can't be now, playing in a different league (Patriot League) ... (but) they used to be a perennial national power year in and out."
In fact, Holy Cross won the 1947 NCAA title and also made the 1948 Final Four.
This, that: KU was 12 of 12 from the line. The last time KU was perfect from the line with 11 or more attempts was against Kansas State on Feb. 25, 1984. ... Carlton Bragg had five rebounds, one shy of a career high. ... Walk-on Clay Young converted his first field goal with :43 left. ... Evan Manning drilled a three-pointer late.
— See what people were saying about the game during KUsports.com's live coverage
---
More news and notes from Kansas vs. Holy Cross
---
---
---