Kansas University junior guard Brannen Greene learned his six-game suspension had turned into a five-gamer — thus had expired — during a coach/player chat after practice on Tuesday.
"Coach (Bill Self) pulled me aside. He said he'd allow me to suit up. He's been happy with my attitude, how I work in practice and all that," said Greene, who celebrated his return to action by scoring 14 points off 5-of-6 shooting (3-of-4 from three) in the Jayhawks' 92-59 rout of Holy Cross on Wednesday night in Allen Fieldhouse.
Greene, who is now 11-of-12 shooting on the season and 8-of-9 from three, missed a handful of contests after barking at Self about playing time both during and after KU's loss to Michigan State on Nov. 17 in Chicago.
Photo Gallery
Kansas basketball v Holy Cross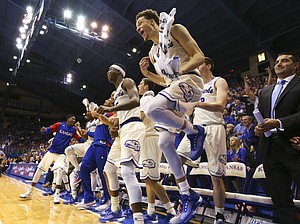 Images from the Jayhawks' Wednesday night game against the Crusaders at Allen Fieldhouse
"He did some good things. He's been practicing well. His attitude's been good. I thought that was enough. He earned his way back on the court," Self said, stressing that the suspension was "for a combination of things."
Coach and player insist they have no differences that still need to be worked out.
"Let me make this real clear: We don't need to get on the same page. He needs to get on our page," Self said. "We had several or a few good talks initially (after Michigan State game), really good talks. I think he wants to be part of everything that's going on here. I'm pleased with him."
Podcast episode
Kansas basketball coach Bill Self discusses the return of junior guard Brannen Greene (14 points) and the impact that had on the No. 2-ranked Jayhawks' 92-59 victory over Holy Cross.
Greene — he scored nine first-half points as KU stormed to a 50-33 lead at the break (off 70.4 percent shooting) — cited Self as being the one person who supported him the most during his penalty.
"Coach Self is my guy," Greene, a 6-foot-7 native of Juliette, Georgia, said. "I know we had an argument, but that was strictly on the court. On the court is not related to off the court, being a competitor. We're fine. Honestly, I look to coach Self, honestly. He's my guy."
Greene was asked to reveal Self's main message to him during the suspension.
Podcast episode
After Brannen Greene returned to the Kansas basketball lineup and the Jayhawks rolled in a 92-59 victory over Holy Cross, Greene, Wayne Selden Jr. and Cheick Diallo discuss the win with media members.
"Just stay positive, look at it as a positive," Greene said. "He said with me we can win a national championship. It was as simple as that."
Actually not as simple as that.
"Once again you guys (media) have been scooped. I haven't ever said that," Self said of winning a title if Greene is eligible to play. "I do think we have a lot of pieces that I think offensively will be hard to guard. It'll be easier to find three guys that are playing well when you are playing five (perimeter players), but, no, I never said that. He (Greene) gets a little bit carried away sometimes when he gets excited and actually remembering or stating fact. I do think we have a chance to be one of the better teams."
Greene said any rumors of his transferring were false.
"I knew I wasn't going to leave the school. I knew I was going to stay here. I knew I was going to face a punishment when it happened (against MSU). I just had to look at it as a positive," Greene said.
He's not proud of the fact he's now missed a handful of games due to behavioral issues.
"My junior year, getting suspended five games, nobody wants that to happen, but I made a mistake," Greene said. "I've just got to keep moving forward. Hopefully it'll be in the past."
His punishment included missing out on the trip to paradise for the Maui Invitational.
"It was definitely difficult watching them play," Greene said. "I knew I'd get back with them, so I just had to look at it as a positive. When the guys were in Maui, I stayed in the gym. When the guys got back I started practicing with 'em, same ol' same ol'."
Self was asked if Greene's "stubbornness" makes him an effective player.
"I always thought that. One thing ... he can't remember his misses," Self said. "He'd be a good cornerback or quarterback because he wouldn't remember his last pass unless of course it was a touchdown. I do think there's some positives to that. I just wish he'd guard better. He's been trying in practice, though."
Greene scored six straight points to open a 19-5 run that gave the Jayhawks a 45-25 lead with 2:45 left in the first half. Holy Cross did cut it to six in the second half before KU used a 9-0 run to open a double-digit lead again
KU had six players score in double figures. Wayne Selden, Jr., scored 15 points, while Greene had 14, Frank Mason III 13, Perry Ellis and Cheick Diallo 12 and Devonté Graham 10.
KU hit 63 percent of its shots to Holy Cross' 38.1 percent. KU hit all 12 of its free throw tries.
"We made shots. When you make shots, everything looks good," Self said. "I didn't think we guarded them at all at the start of the second half. That was horrendous. They had 17 points in four minutes (to cut it to six). After that we were good. Our defense has to improve tremendously."
KU will next meet Oregon State at 7 p.m., Saturday, in Sprint Center in Kansas City.
— See what people were saying about the game during KUsports.com's live coverage
---
More news and notes from Kansas vs. Holy Cross
---
---
---