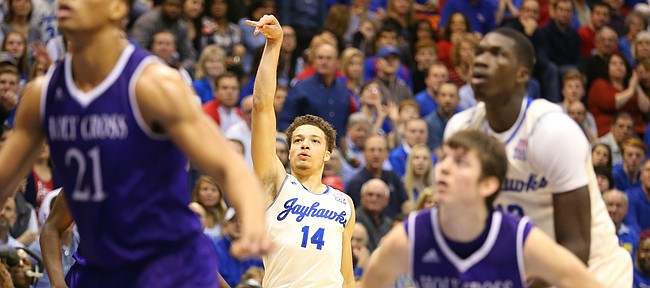 A five-minute stretch midway through the first half of Wednesday's 92-59 Kansas University basketball victory over Holy Cross at Allen Fieldhouse perfectly summed up the hot-and-cold career of KU junior Brannen Greene.
Best described by six simple words: Take the good with the bad.
And like it.
Greene's return to the lineup, unexpected as it was, given that it came one game shy of the six-game suspension he was slapped with for violating team rules prior to the trip to Maui, proved that Kansas fans are just fine with that idea.
When Greene was announced after checking in with 11:53 to play in the first half, the crowd roared, perhaps forgetting that just a few weeks ago this was the same guy many of them were moaning and groaning about on message boards for his inability to "figure it out."
Photo Gallery
Kansas basketball v Holy Cross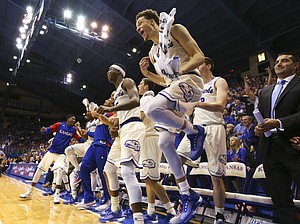 Images from the Jayhawks' Wednesday night game against the Crusaders at Allen Fieldhouse
Like it or not, KU coach Bill Self may have to follow the lead of the fans, because there's no denying Greene's offensive impact when he's on the floor.
Podcast episode
Kansas basketball coach Bill Self discusses the return of junior guard Brannen Greene (14 points) and the impact that had on the No. 2-ranked Jayhawks' 92-59 victory over Holy Cross.
Here's a look at that delightfully maddening first-half stretch:
After picking up a foul 15 seconds after checking in, Greene responded with a picture-perfect three-pointer from the wing 70 seconds later.
Podcast episode
After Brannen Greene returned to the Kansas basketball lineup and the Jayhawks rolled in a 92-59 victory over Holy Cross, Greene, Wayne Selden Jr. and Cheick Diallo discuss the win with media members.
After throwing a pass closer to Holy Cross coach Bill Carmody than his own teammate on another possession, Greene knocked down a triple from the corner after the ensuing Kansas stop.
And finally, after fighting a teammate for a rebound that landed in the hands of a Holy Cross player, Greene dug in, broke up a pass and sprinted out in transition for a tough, and-one bucket that pushed KU's lead to 32-20 late in the first half.
All of this in a five-minute stretch. And all of it in his first game back from a very public suspension that added yet another chapter of dysfunction to his rocky KU career.
Clearly, Greene's game is not always pretty. The shot? Sure. That is. Perfect elevation, form and release. But at times Greene's game has all of the warts and wrinkles of Medusa. He can be careless with the ball, rarely digs in defensively and is not afraid to let his body language reflect what's on his mind, good or bad.
But none of that matters when you can score like he can. On Wednesday night Greene poured in 14 points in 17 minutes on 5-of-6 shooting, 3-of-4 from three-point range. 
KU coach Bill Self said after the game that giving Greene too much credit for the confidence his team had shooting the ball would be misguided. He's right. After all, the Jayhawks shot lights out in Hawaii, and Greene wasn't even in the same state.
But there's something to be said for a guy who can be just as effective when things go well as he can when things turn ugly. And Greene is the poster boy for both.
Look no further than a sloppy possession in the second half that quickly turned from coal to diamonds for proof of that.
With the Jayhawks setting up their offense in front of the KU bench, Self shouted at Greene to get in the right spot. Once he did, he fumbled with the ball before throwing it to no one in particular near the top of the key. After a teammate scooped up the loose ball and quickly got it back into Greene's hands with the shot clock winding down, the 6-foot-7 guard blew by his defender and easily scored a flashy layup.
Vintage Greene. The good with the bad. On and off the court.
— See what people were saying about the game during KUsports.com's live coverage
---
More news and notes from Kansas vs. Holy Cross
---
---
---