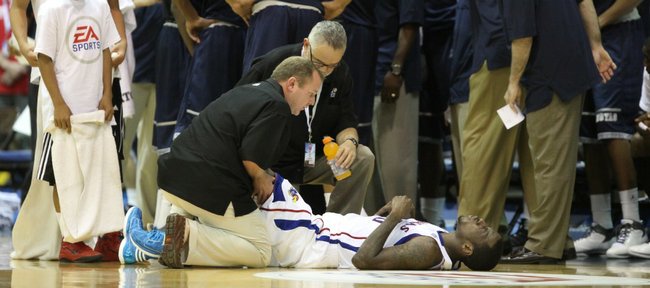 Podcast episode
KU coach Bill Self, Tyshawn Taylor, Elijah Johnson and Travis Releford talk to reporters following the Jayhawks' 67-63 victory over Georgetown on Nov. 22, 2011.
KU vs. Georgetown
Lahaina, Hawaii — Tyshawn Taylor, who went up to contest a Georgetown shot, returned to earth with the sharpest pain in both his legs.
Kansas University's 6-foot-3 senior point guard had been hit by the Hawaiian cramps — same malady that affected KU's Aaron Miles, Nick Collison and Drew Gooden in a first-round Maui Invitational loss to Ball State back in 2001.
"It was one of the weirdest feelings ever," said Taylor, who went down with 14:21 left in Monday's 67-63 victory over the Hoyas. At the time, the score was tied, 46-46.
"Both my legs, my calves and my quad cramped at the same time, so I couldn't bend them all for a couple seconds. The trainer came out and rubbed them out."
Taylor was helped to the locker room where he received IV fluids. He returned with his right arm taped, KU building a three-point lead in his absence, 51-48, at 9:42.
"I knew I'd come back. I didn't know I'd have to get IVs," Taylor said. "Coming back was the easy part. Getting the IV was the hard part. That needle hurt."
Taylor — he was sensational with 16 points off 5-of-9 shooting, including 3-of-3 from three — said overall, "it was a pretty weird feeling. It happened to me a couple years ago at practice, but never in a game. I couldn't walk. I felt if I walked, my legs locked up."
Taylor laughed when a media member asked if he felt like a hero, returning to help the Jayhawks land a spot in today's 8:30 p.m., semifinal versus UCLA.
"I don't think it was that serious," Taylor said. "If I had a broken nose or broken bone and returned ... this was just cramps."
KU junior Thomas Robinson, who had 20 points and 12 rebounds, also cramped up very late — with 2:02 left and KU up, 63-60. He was able to stay in the game, however.
"He's OK. He's getting some treatment now," KU coach Bill Self said after the game.
Taylor indicated he'd "be fine," for today's semifinal, "after drinking some fluids and getting some rest."
As far as the semifinal, KU will be playing a (1-2) UCLA team that slugged Chaminade, 92-60, in Monday's opening round. UCLA holds a 10-6 advantage in the all-time series versus KU, but the Jayhawks have won two straight.
"I'm excited about this game. I think it's going to be a fun game," Taylor said. "It's good competition out there. Last year was really close (77-76 KU win in Lawrence). They almost beat us. We'll do what we did today, come out and compete."
KU coach Self said: "I'm excited. Kansas/UCLA has a pretty nice ring to it. Ben's teams are always good and sound, and they'll continue to get better. I think for the first time this year they'll have all of their pieces for the whole game. So we'll look forward to it, but we know it will be tough, especially on the short turnaround."
• Highlights: Travis Releford on Monday had a putback with 2:35 left to give KU a 63-58 lead. He hit two free throws at :15.7 to give KU a 67-63 lead. Elijah Johnson had a big steal and bucket at 5:51 to give KU a 59-53 lead; also a layup at 1:05 to expand a 63-60 lead to five points.
"Elijah may have made the biggest basket of the game. When he went flat and took his man and got a layup there, late clock. That was an excellent play," KU's Self said. "Travis, I thought made about three great plays for us to really ice the win. He dove on the floor and got the jump ball and made two free throws. He did a lot of good things late. He (Releford) needed that. We needed that as a team and he needed that individually too. I thought overall it was a pretty good team effort."
Releford noted: "It helped out a lot (his confidence). I knocked down mid-range jumpers. Most of the game I got the opponent's best scorers, so I needed to get after it on the defensive end and the offense will come."
• Elijah Johnson on KU's loud contingent of fans: "It doesn't surprise me. Our fans are great. They travel everywhere we go. They're willing to support us in whatever situation it is, so it doesn't surprise me too much. But it felt good to hear people chanting out and to have some support behind the bench and to be able to see a lot of blue in the crowd like that. It always feels good. It makes you more comfortable on the floor."