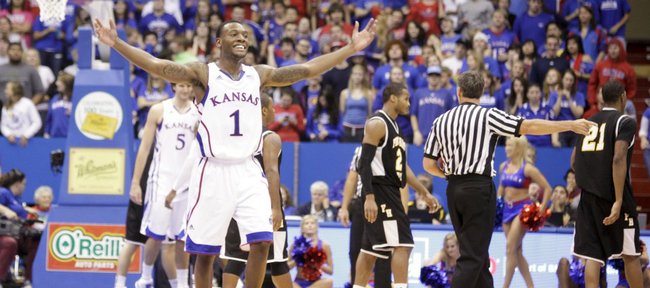 Videos
KU vs. Fort Hays State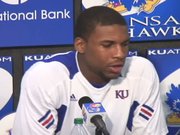 Kansas defeated Fort Hays State, 101-52 on Tuesday, Nov. 8, 2011 at Allen Fieldhouse.
Podcast episode
Kansas coach Bill Self talks to reporters following the Jayhawks' 101-52 exhibition victory over Fort Hays State.
KU vs. FHSU
Thomas Robinson's contagious smile starts at Washington, D.C., and travels along I-70 all the way to Lawrence. It's that wide, and it consumed the room during Tuesday night's postgame interview session when he was asked about the chemistry he had with high school and current teammate Naadir Tharpe.
"YouTube us," he advised.
Tharpe chimed in: "We got a lot of highlights, a lot of highlights, a lot of highlights."
Tharpe, a 5-foot-11 freshman point guard from Worcester, Mass. who played three years at Brewster Academy in Wolfeboro, N.H., where Robinson played one season, knows how to supply those.
He's a jet who can stop suddenly, create space and drain long jumpers. He also knows how to get to the hoop. With talent like he has, it's only natural to want to create highlights, enjoy watching them and revel in others doing the same. As much as Tharpe enjoys memorable plays, he likes playing time even better.
Early in Kansas University's 101-52 slaughter of Fort Hays State, Tharpe, in wild-colt mode, dribbled his way into the lane on a possession that didn't end well.
"Hey," ninth-year KU coach Bill Self lashed, "run the stuff."
So for much of the rest of the night, Tharpe "ran the stuff," mixed in highlights and showcased a sweet shooting touch on his way to 19 points, seven assists and five steals with just two turnovers. He made two of three three-pointers and all three free throws. Afterward, he drew compliments from a coach who doesn't engage in a great deal of that sort of talk this time of year.
"The thing about it is with young kids, when they figure out that they don't know, then they'll get better faster," Self said. "A guy like Naadir (Tharpe) and Kevin (Young) and guys who don't get a chance to play as much or that really need to see some positive things happen, need to make an abundance of really easy plays, rather than try to hit a home run."
Young, the slender forward who transferred from Loyola Marymount, doesn't look ready to fit in yet. Tharpe is shaping up as a guy who's ready to play a lot right away in relief of, and sometimes in a three-guard look with, Elijah Johnson and Tyshawn Taylor.
"I thought Naadir did a much better job tonight of just making a simple play," Self said. "A bunch of simple plays added up turned out to be great. Maybe we're starting to realize that a little bit."
Tharpe has a fearless quality to his game.
"He's a cocky guy, and if you are 5-foot-whatever at his level, you better be pretty cocky and tough," Self said. "He has to improve on guarding his man and not looking where the screen is coming from, but the little guy can shoot the basketball, and he has been doing that since he's been here."
Tharpe had nine turnovers in the first exhibition game, against Pittsburg State, and faced considerably tougher competition all week.
"Playing against Tyshawn and Elijah in practice, they really went after me, and we were going at it," Tharpe said.
Kansas, quite thin in the front-court, will always play at a fast pace because among Taylor, Johnson and Tharpe, it will have at least two, sometimes three jets on the floor at all times.