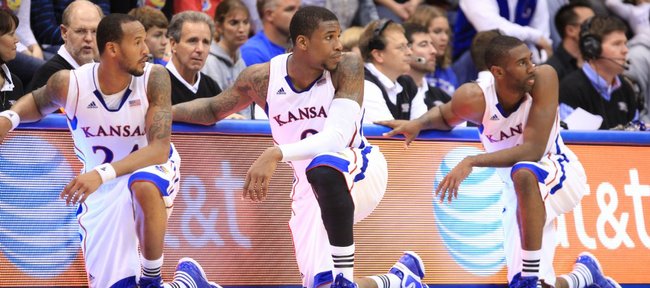 Videos
KU vs. Fort Hays State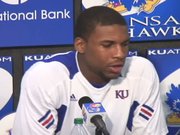 Kansas defeated Fort Hays State, 101-52 on Tuesday, Nov. 8, 2011 at Allen Fieldhouse.
Podcast episode
Kansas coach Bill Self talks to reporters following the Jayhawks' 101-52 exhibition victory over Fort Hays State.
KU vs. FHSU
Thomas Robinson's season debut — which was delayed a week — definitely was worth the wait.
Kansas University's 6-foot-10, 237-pound junior power forward, who missed the exhibition opener against Pittsburg State because of a hyperextended left knee, exploded for 22 points, grabbed 12 rebounds, dished five assists and blocked four shots while logging 28 minutes in KU's 101-52 dismantling of Fort Hays State on Tuesday in Allen Fieldhouse.
"I was quite more nervous than I thought I would be before the game," Robinson said. "As soon as I got out there, I felt like I was home again."
Robinson, who hit nine of 19 shots and four of seven free throws, said being nervous was only natural.
"I don't think it's ever going to go away — just being anxious," he said. "I've been waiting six months to play against some other faces. We've been beating up against each other all summer. I was anxious to get out there and play against somebody else."
Robinson opened the scoring off an inbounds pass under the goal from former Brewster Academy teammate Naadir Tharpe (19 points, seven assists, two turnovers, five steals 29 minutes). Much later — with 8:11 to play — he finished a vicious one-handed slam off a throw-ahead pass, again from Tharpe.
Robinson's dunk — as well as freshman Merv Lindsay's jam to give KU its 100th point — probably ranked as the two fan-favorite plays of the game.
"It was sloppy," Robinson said of his dunk. "I wanted to make it better than that. It was cool. I just wanted to test the knee out."
His knee passed that test, just as Robinson drew an A for effort his first time out.
"I thought he played pretty well," KU coach Bill Self said. Robinson's only blemish was going 0-for-2 from three-point range. "He was a little tight early. He got the first basket of the game, then made a little 14-footer after that. He was in good rhythm. I think he was under control and did some nice things."
Self mentioned Robinson's five assists. As a team, KU had 20 assists against 10 turnovers. Fort Hays State finished with 22 turnovers, nine assists. One notable assist was Robinson's dish to Jeff Withey (nine points, five rebounds) for a slam which took place on the KU possession immediately after Robinson's one-handed jam.
"He still needs to get down in his stance on defense and guard his man before he catches the ball, but I thought he was pretty good," Self said of Robinson.
Conner Teahan scored 14 points off 5-of-5 shooting (2-for-2 from three), while Justin Wesley (6-of-6 from the line) had 12 points and Travis Releford 11. The Jayhawks hit 59.3 percent of their shots to Fort Hays State's 32.7 percent.
"Conner has really been good shooting the ball," Self said. "He goes 5-for-5 in the first half, and all of them are deep except one. We were pretty efficient. We took care of the ball and guarded a little bit better. We can't get excited. We have to do better, but this was a better team effort than what we had last week (in 84-55 victory over Pittsburg State).
KU will meet Towson at 7 p.m. Friday in Allen in the season-opener for both teams.