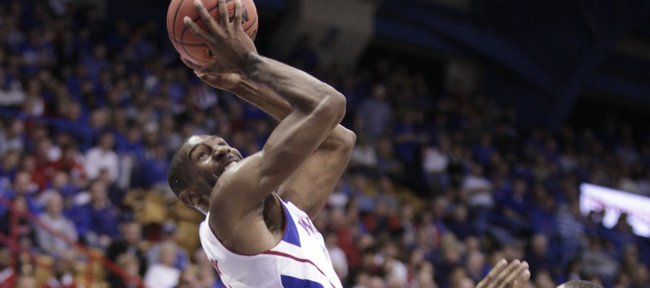 Videos
KU vs. Fort Hays State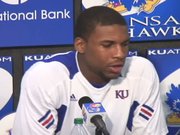 Kansas defeated Fort Hays State, 101-52 on Tuesday, Nov. 8, 2011 at Allen Fieldhouse.
Podcast episode
Kansas coach Bill Self talks to reporters following the Jayhawks' 101-52 exhibition victory over Fort Hays State.
KU vs. FHSU
Justin Wesley wasn't happy with himself after reviewing his performance against Pittsburg State from Kansas' first exhibition game on Nov. 1.
"That's the good thing about film. You actually see yourself out there," the KU sophomore forward said. "I don't think I gave as much effort as I should."
Wesley worked to correct that issue Tuesday, contributing 12 points, four rebounds and two blocks in 22 minutes during KU's 101-52 exhibition victory over Fort Hays State.
"I felt like tonight I did a better job of using my athleticism," Wesley said, "as far as running the floor and kind of being all over the place defensively."
The 6-foot-9 Wesley — who has gained 20 pounds since first arriving at KU at the beginning of last season — made three of four shots and all six of his free-throw attempts.
KU coach Bill Self said Wesley, a Fort Worth, Texas, native, had the potential to impact the Jayhawks' program the same way former KU walk-on Christian Moody did.
"I thought he played really well," Self said of Wesley. "His hands to me looked better. He's a great athlete as you can tell — not a good athlete, a great athlete."
Part of Wesley's improvement came from going against Marcus and Markieff Morris in practices last season.
There were a handful of times when Wesley left practices with bloody noses after taking unintentional elbows to the face.
"It taught me how to play and be physical," Wesley said. "It was great."
The red-shirt year also helped him realize what would be expected of him; that included knowing how hard to go in practice and learning KU's 100-plus plays.
Wesley has already talked to Self about his role this season, which is to be a ball-mover and to help KU gain extra possessions.
"He's not a natural scorer. He's an intangible guy," Self said. "But the way he scored (Tuesday) is the way he can score in a game."
Wesley hasn't allowed himself to think too much about how his college basketball fortunes have changed in the last three years.
During the 2009-10 season, he averaged 1.2 points and 9.9 minutes at Lamar.
Now, as a sophomore, he's likely the first big man off the bench to start the season for 13th-ranked KU.
"A lot of people say it's a rags-to-riches story, but it's just one of those stories that happened to turn out good for me," Wesley said. "Coach told me the other day that this is the chance of a lifetime. I'm just going to do everything I can to not let it pass me by."