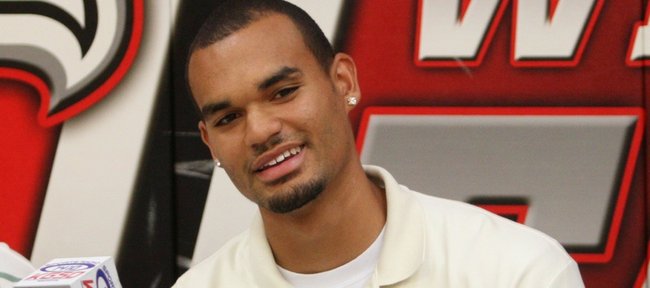 Videos
KU vs. Fort Hays State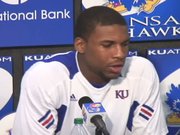 Kansas defeated Fort Hays State, 101-52 on Tuesday, Nov. 8, 2011 at Allen Fieldhouse.
Podcast episode
Kansas coach Bill Self talks to reporters following the Jayhawks' 101-52 exhibition victory over Fort Hays State.
KU vs. FHSU
Wichita Heights senior standout Perry Ellis will sign a letter of intent with Kansas University today, the first day of the weeklong fall signing period.
Zach Peters, a 6-foot-9, 235-pound center from Prestonwood Christian Academy in Plano, Texas, will wait until a banquet Monday to sign his KU letter.
The 6-8, 220-pound Ellis, who is ranked No. 24 in the country by Rivals.com, orally committed to KU on Sept 22. He chose the Jayhawks over Kansas State, Wichita State and Kentucky. The three-time state Gatorade Player of the Year averaged 22.1 points and 7.9 rebounds a game a year ago. He'll sign at an 8 a.m. ceremony at his high school.
Peters, who is ranked No. 144, committed to KU on April 21, 2010. He averaged 15.3 points and 9.0 rebounds a game last season. A wide receiver for his school's football team, Peters has 42 catches for 549 yards and nine touchdowns for the 7-2 Lions.
KU coach Bill Self cannot comment on the individual recruits until KU receives signed letters of intent.
He did speak on recruiting in general after Tuesday's victory over Fort Hays State.
"What happens tomorrow isn't certainly an indication of what's going to happen during the early signing period because I don't know if we're going to sign all our guys tomorrow," Self said. "But we still have a chance to have a very good recruiting class. We obviously have missed out on a couple guys that certainly we felt would be difference-makers. I do think there's other guys out there. Certainly we're on top of those guys.
"Recruiting is a never-ending deal," he added. "Several of the key players in this class aren't going to sign early. We'll still continue to recruit some guys."
KU most recently lost No. 20-rated center Kaleb Tarczewski to Arizona. Earlier, J'Mychal Reese picked Texas A&M;, Ioannis Papapetrou selected Texas, and Marcus Smart tapped Oklahoma State. Recruits that remain available include No. 56 Andrew White, 6-6 from Miller School in Chester, Va. KU will have two scholarships left to award if Thomas Robinson, as expected, turns pro after the season. KU would have three to give if Justin Wesley returned to walk-on status. He is on scholarship this year after transferring from Lamar as a walk-on.
•
KU sophomore guard Niko Roberts (one point, two rebounds, five minutes) played with a mask Tuesday to protect a broken nose.
"He looks like Jason from 'Halloween,'" Self said.
•
KU football tight end A.J. Steward, 6-foot-3, 233-pound senior from St. Louis, was asked Tuesday about the possibility of playing basketball second semester at KU. Steward was recruited to KU as a quarterback and played basketball at Riverview Gardens High School.
"You know, after the season if coach Self gave me a call or an e-mail or something about the basketball team, I would definitely try it out. I love basketball. I love any sport. If any coach at the University of Kansas asked me to play a sport, I would definitely try it," he said.
Stats, facts
KU has won 39 straight exhibition games dating to 1995. ... KU is 8-0 versus Fort Hays, including 5-0 in exhibition games.