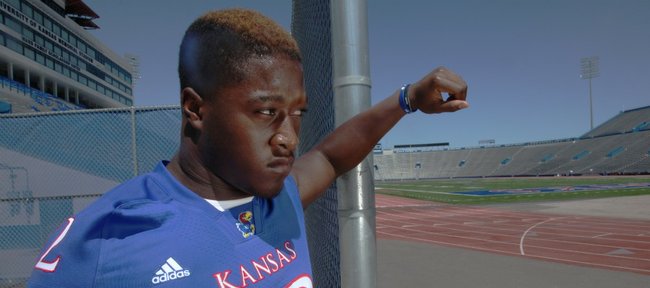 When Kansas University senior Steven Johnson first came to campus, he was a regular student like most of the people around him.
Sure, Johnson had plans to join the football team and hoped, someday, actually to earn some playing time. But in the early days, the easiest way for him to feel like a member of the team was to surround himself with those who were.
"I remember going out one time and seeing (senior tight end) A.J. Steward and (senior defensive lineman) Richard Johnson and just asking them if they played football just because I wanted to be around them," Johnson recalled Tuesday. "They were like, 'Yeah, we play football,' and I was like, 'I'm gonna be on the team,' and they were like, 'OK,' and they walked away."
Steward, who, like Johnson, will play his final home game at 1 p.m. Saturday against Baylor, remembers the meetings. Throughout his four years at Kansas, Steward said several classmates approached him about playing football and sought his advice on how to go about getting a tryout. Most of the time, Steward laughed and dismissed the conversations as overambitious. Not with Johnson.
"I remember seeing him on campus a lot," Steward said. "And I was like, 'This guy's too big to not be playing a sport.' I didn't know what he was up to, but I knew he had to be some type of athlete because he was a real buff guy. We have a lot of guys that come up to us and say they want to try out for the team, but I believed him because he seemed real driven, and he definitely fit the mold of a football player."
Fast forward a few years, and you'll find that Johnson fits head coach Turner Gill's ideal mold of a Kansas football player. Not only does he lead the team in tackles (99) and heart, he also is the face of the program and, by far, the team's most outspoken and honest representative.
"I think that describes a leader," Gill said. "He leads by example. It's always good if it's more about your actions than your words, and Steven Johnson is a great example of that. He comes to work every day. He does all the right things, both on and off the football field, academically and taking care of his business."
In many ways, those words could be used to describe all 15 KU seniors who will be honored with a brief ceremony prior to Saturday's kickoff. While Johnson has been the most visible of the bunch during the past couple of seasons, there are others who have made their presence known for years. Tight end Tim Biere is one example. Cornerback Isiah Barfield is another. Offensive linemen Jeff Spikes and Jeremiah Hatch have been starting, off and on, since 2008, and, both were red-shirting during the 2007 season when KU won the Orange Bowl. Each senior has taken his role as an upperclassmen to heart this season. And each is determined to help his class be remembered for its character and talent and not its final two seasons. That's certainly how Gill will remember them.
"To understand that it's about the program, the team and the university shows how unselfish they are," Gill said. "The best way to describe this senior group is they are unselfish, and they understand the big picture. I think when you're able to teach young people to look at the big picture, they're going to be successful as they move along in their lives."
The other seniors who will play their final games at Memorial Stadium on Saturday are: linebacker Brian Blackwell, cornerback Anthony Davis, defensive lineman Patrick Dorsey, defensive lineman Richard Johnson Jr., wide receiver Chase Knighton, running back Rell Lewis, defensive lineman Michael Martinovich, tight end Ted McNulty and quarterback Quinn Mecham.
While some will be remembered for their statistics, wide receivers coach David Beaty said the class as a whole would be remembered for more than just names, numbers and faces.
"The thing that sticks out to me is just the work ethic that they brought every day, regardless of whether it was up or down," Beaty said. "They've been through some good, and they've been through some bad, but they've been able to bring that same persona each and every day, which is challenging at times, but they've shown great maturity."
Some of that maturity may be reduced to tears this weekend. Asked which players were most likely to cry during Saturday's senior ceremony, most players pointed to Hatch and Spikes. Surprisingly, nobody picked Johnson, who always has been viewed as one of the more emotional players on the team.
"Steven, he'll probably be trying to get his parents hyped for the game," Barfield said.
Tears or no tears, hype or no hype, one thing seemed clear in talking to a few KU seniors Tuesday at the program's weekly meeting with the media — these guys are proud of what they've done at KU, and they're not afraid who knows it.
"I'm really happy," Johnson said. "I wouldn't change it for the world. Even though it didn't necessarily happen the way I wanted it to, I still got one bowl ring out of it, and I'm glad that I got that. I'm just looking forward to continuing to move on. Hopefully I can play at the next level and rep KU as hard as I can."
Injury update
Gill said Tuesday that freshman running back Tony Pierson, who did not play during last week's loss at Iowa State, would be available for Baylor and would play.
Gill said Pierson, who recently suffered a hand injury, was 100 percent and ready to go.
Pierson, 5-foot-11, 175 pounds, from East St. Louis, Ill., ranks third on the team in rushing in both yards (290) and touchdowns (two).
Fellow freshman running back Brandon Bourbon, who looked good in rushing twice for 25 yards on back-to-back carries last week against ISU, said he was shut down the rest of the way because of a leg injury. Bourbon also said he was uncertain whether he would play this week.
No word on place kicker
The battle for place-kicking duties that currently is being waged between freshman Alex Mueller and sophomore Ron Doherty figures to last throughout the week, Gill said Tuesday. Mueller, KU's first-string place kicker during the first nine games of the season, was replaced by Doherty midway through last week's loss at Iowa State after missing his only two field-goal attempts of the day. Mueller missed field goals of 36 and 49 yards, running his season total to 3-for-8, including 1-of-6 from beyond 30 yards.
Doherty, who handles KU's punting and ranks 28th in the country in average (42.66 yards per kick), made his only attempt, a 19-yarder in the third quarter that tied the game at 10 late in the third quarter.

Border War kickoff pushed back
Kickoff for this year's game against Missouri at Arrowhead Stadium, in Kansas City, Mo., has been pushed back to 2:30 p.m., the Big 12 Conference announced Tuesday.
The game originally was slated to kick off at 11 a.m., but has been moved back to accommodate the league's television contract. The game, which could be the final battle in the Border War series now that Missouri is moving to the SEC, will be shown on Fox Sports Net.
Speaking of the Border War, Hatch said those games were what he would remember most about his time at Kansas.
"A lot of people would think I would remember the Orange Bowl," Hatch said. "But I'm probably gonna remember the Missouri games, man. Those games are just unbelievable, especially the one with Kerry (Meier making the game-winning touchdown grab in the snow in 2008)... All of them, even the ones we lost."