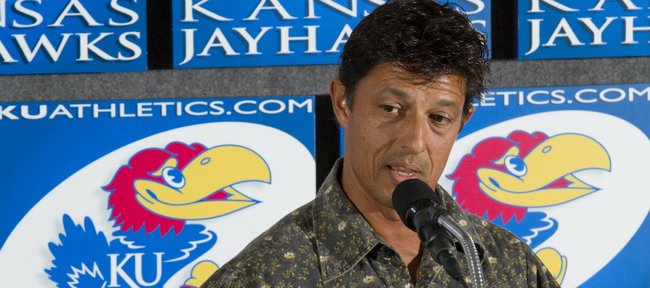 Kansas University women's soccer coach Mark Francis would like nothing better than for the student body to have a Saturday night that's so boring everybody gets to sleep early. That way, the won't have to miss Sunday's noon soccer game against Georgia in the opening round of the NCAA Tournament.
"I mean, it's a Sunday at noon, if they're up by then," Francis said of the students attending the game. "Hopefully, we can get them up and they can eat their breakfast at the soccer game."
The athletic department is doing its part to aid in that goal by purchasing students' tickets for them. KU students need only show their ID cards to gain admission.
"I think that's huge," Francis said. "My hope is we get a lot of students. I'm not sure we'll get a big fan base, just crowd, period, but I think getting the students out, they tend to make some noise. The advantage of playing at home is you get people cheering for you and not for the other team. We've been on the other end of that in the conference in almost every road game."
Francis said the opportunity to be the host school also spares his players the stress of missing classes.
"I'm hoping the weather's not too warm and Georgia won't like it too much," said Francis, who celebrated his birthday and learned of KU's bid Sunday.
Francis quickly acquired video of Georgia's games against Texas and Iowa State, but NCAA rules forbid him from contacting SEC schools to obtain more footage of the Bulldogs, who in turn are forbidden from contacting Big 12 schools.
"The bad thing is the video you are getting is from six weeks ago," Francis said. "At least you can get the basic formation down and who the dangerous players are. You're not as prepared going into the game in the NCAA Tournament as you are in the regular season, when you're getting video from the previous weekend. It's a bit of a crapshoot."
Kansas (11-8-1) is one of five Big 12 schools in the tournament. Georgia (12-6-1), like Kansas, earned an at-large bid in the field of 64.