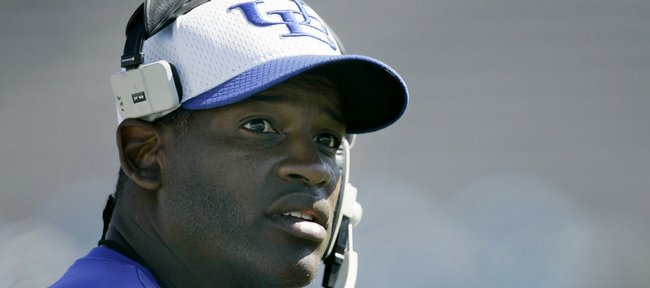 Feature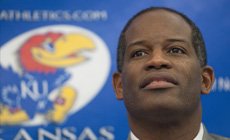 Turner Gill was named the head coach of the Kansas football team Sunday, December 15, 2009.
More on Turner Gill
Reader poll
Yes

69%

2999 votes

No

30%

1299 votes
4298 total votes.
Lew Perkins' search for a head football coach spanned nine days, at least two cities and included conversations with at least six coaches from four conferences.
In the end, however, the Kansas University athletic director chose the man with whom he first spoke.
Turner Gill, head coach at Buffalo and reportedly the first coach interviewed in the days following Mark Mangino's resignation, is expected to be named head coach at KU on Monday, the Journal-World has learned.
The news puts to rest a nine-day search in which rumors and speculation have been rampant, various incorrect developments were reported and Perkins and his staff remained impressively quiet.
It also comes as a relief to Kansas' current players, who have attempted to go about their usual business while awaiting news of the program's fate.
Reached Saturday by the Journal-World, several current and former players expressed excitement at the prospect of starting over under a coach seemingly held in high regard by his players at Buffalo.

"I hear that he's a great motivator, and he's definitely a players' coach who (includes) his players' thoughts in all his decisions," said freshman running back Toben Opurum, arguably the Jayhawks' top returning offensive player. "He's really going to be somebody that's going to be able to bring some charisma and enthusiasm into the program."
Added freshman receiver Erick McGriff, "I've always been a fan of coach Gill. I've seen him at Buffalo. He's over there winning championships. I'm just excited. We're all excited, and we can't wait to get back on the field and start playing again."
Buffalo turnaround
In four years at Buffalo, Gill's teams went 20-30, though that record might be a bit misleading given the nature of the program before Gill arrived.
In 2008, he led the team to an 8-6 record and its first bowl berth in 50 years. Following the season, he was named a finalist for the Bear Bryant College Football Coach of the Year Award and was a finalist for the opening at Auburn that eventually went to Gene Chizik.
And unlike Kansas' former coach — whose quick temper resulted in a number of public incidents and quite possibly led to his messy divorce from the university — calmness seems to be Gill's M.O.
"Turner is a first-class person," said Nebraska athletic director Tom Osborne, who coached Gill, a 1983 Heisman finalist, with the Huskers. "He's a guy that will always represent Kansas well. He'll never embarrass that program. He's totally honest, he'll treat players well, and he's just a good football man."
Strong recruiter
Perhaps Gill's most immediate impact at Kansas will come in the form of recruiting.
As uncertainty has swirled over the past two weeks, the program's remaining coaches — defensive coordinator Clint Bowen, receivers coach David Beaty and linebackers coach/co-defensive coordinator Bill Miller — have attempted to keep the program's 2010 recruiting class intact.
For the most part, they seem to have done so, losing only one recruit (quarterback Jacoby Walker, who switched his commitment to Utah and plans to enroll there for the spring semester) since Mangino's resignation.

With a head coach now in place, however, things figure to grow infinitely easier from that standpoint.
Gill, a native of Fort Worth, Texas, has a developed a fine reputation as a recruiter in his home state. Buffalo's current roster currently includes 11 players from the state, and Texas is where Gill spent much of his time recruiting while an assistant at Nebraska for more than a decade.

"I think it definitely provides some stability," Opurum said. "Now that we have the hire, we have the ability to get some more recruits, some different recruits, be able to keep some of our guys. It's kind of hard to sign somewhere when you don't have a coach."
Picking up the pieces
Immediately, Gill, one of only 11 black head coaches in the NCAA Football Bowl Subdivision (formerly Div. I-A), will be charged with picking up the pieces after an ugly series of events left the Kansas program with a tarnished image.
Last month, the school launched an internal investigation into the actions of Mangino, a move that seemed to polarize the public and former players. Various former players stepped forward with allegations of physical and verbal abuse, while others described Mangino as nothing more than a stern disciplinarian.
The result was negative national exposure and Mangino's eventual ouster, which came after Perkins and the coach agreed to an undisclosed settlement on Dec. 3.
As word of Gill's arrival coursed through the Kansas football grapevine Saturday, however, attention seemed to be pointed toward the future.
That includes the attention of beloved former KU coach Don Fambrough, who spoke excitedly of the program's potential when reached Saturday evening.
As a habit, Fambrough likes to get to know the various Jayhawks' coaches upon their arrival, but in this case — having been on the wrong end of a couple of Gill's masterpiece collegiate performances — no introduction will be necessary.
"I don't know what kind of coach he might be, because I haven't been around him when he's coaching," Fambrough said. "But if he can coach like he played, we'll be world-beaters, I'll tell you that."
According to published reports Saturday night, Gill will bring a couple of former head coaches along as assistants: Carl Torbush, former head coach at North Carolina and currently the defensive coordinator at Mississippi State, and Chuck Long, formerly the head coach at San Diego State and a former Oklahoma assistant.