Feature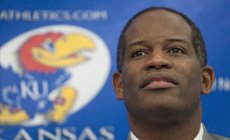 Turner Gill was named the head coach of the Kansas football team Sunday, December 15, 2009.
More on Turner Gill
Reader poll
Yes

69%

2999 votes

No

30%

1299 votes
4298 total votes.
We were standing on the 11th tee box at Lawrence Country Club a couple of summers ago when Kansas University athletic director Lew Perkins asked me if I remembered what place Turner Gill finished in the Heisman Trophy voting.
I told him I thought he was second. In fact, the former Nebraska quarterback was fourth in 1983, when teammate Mike Rozier won it. Perkins then proceeded to tell me he had met Gill at a function of some sort.
"Impressive guy," Perkins said. "I mean, really, really sharp. Nice guy."
The way he said it left an impression and made me think if Perkins ever moved Mark Mangino out he would take a long, hard look at Gill. Perkins did, and, obviously, the more he looked, the more he liked what he saw.
Sexy hire? No. Smart hire? Yes.
A stop-the-presses hire, such as Stanford's Jim Harbaugh, would have generated a greater buzz, and if he stuck around, maybe would have given Kansas a better shot at winning Big 12 North titles. But Harbaugh either wasn't interested, or Perkins sensed he had his eye on the NFL and wouldn't be the Kansas coach for long. Probably the former. Either way, once Harbaugh was off the table and Houston's Kevin Sumlin trained his attention on staying put with a contract extension, Gill was the wise choice. This wasn't an ego hire by Perkins, or he would have reached for a bigger name.
This was a good-fit hire. Gill was a Texas high school superstar who turned down Texas and Oklahoma to head north. OK, so he didn't choose Kansas. He chose Nebraska. While recruiting for Nebraska, Gill gained an excellent reputation for talking recruits into leaving Texas.
Kansas still isn't Nebraska, but it's a heck of a lot closer than it was when Gill played. He had 11 players from Texas on his Buffalo roster, and it will be a great deal easier recruiting athletes from his home state to Kansas of the Big 12 than it was getting them to Buffalo of the Mid-American Conference.
Naysayers will point to Gill's 20-30 record in four seasons at Buffalo and 5-7 record this past season as reasons not to hire him, but to know anything about Buffalo Bulls football is to know he worked miracles in his four seasons there.
A coach's record in his first season at a school never should be counted against him because he usually inherits a bare cupboard. Gill's 2-10 record in 2005 shouldn't be weighed in evaluating him any more than Mark Mangino's 2-10 record coaching Terry Allen talent should count against him.
Gill had an 18-20 record, a .474 winning percentage, in his final three seasons. Not impressed? The Bulls went 12-79, a .132 winning percentage, in the previous eight seasons. They went from averaging 1.5 victories to averaging six.
Conspiracy theorists will wonder whether Kansas having its first African-American chancellor played a role in Perkins hiring its first African-American football coach. Wrong. When Perkins spoke glowingly of Gill on the 11th tee box, Robert Hemenway was chancellor.
Will Nebraska one day steal him? Only if he significantly elevates the Kansas program. Nothing wrong with that outcome.
More like this story on KUsports.com