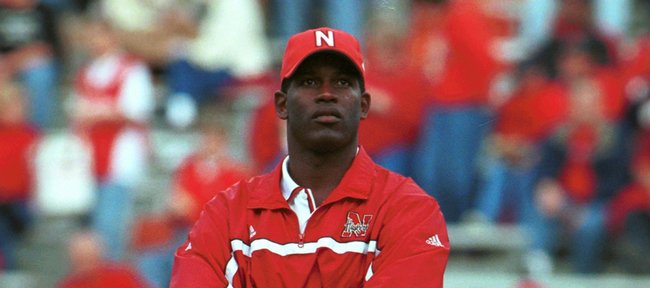 Feature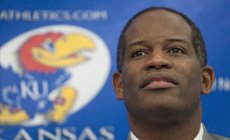 Turner Gill was named the head coach of the Kansas football team Sunday, December 15, 2009.
More on Turner Gill
Reader poll
Yes

69%

2999 votes

No

30%

1299 votes
4298 total votes.
Tommie Frazier had no shortage of kind words to say Saturday in support of Turner Gill, his former quarterbacks coach.
But the one-time Nebraska quarterback and 1995 Heisman Trophy runner-up kept coming back to one key virtue: patience. Frazier repeatedly described Gill, to whom Kansas University has offered its head coaching job, as a "very patient person."
"He treats kids as if they were his own kids," Frazier said. "He's going to sit down with them and talk. He'll listen to you and tell you his side and talk through how things are done."
"He's not the kind of guy to fly off the hinges and yell and scream, all that kind of stuff."
Gill served as Frazier's quarterbacks coach, helping lead Nebraska to back-to-back national titles in 1994 and 1995. Gill won three national championships as a Husker assistant, the third coming in 1997. Gill, who since has led the University at Buffalo to a bowl appearance and Mid-American Conference title, also coached Heisman-winning quarterback Eric Crouch at Nebraska.
"He taught me to be a student of the game," Frazier said. "He taught me you've got to be two, three, four, sometimes five steps ahead of the competition. He knows how to teach young quarterbacks how to read defenses, which is something you don't always see in quarterbacks coming out of high school."
Away from the football field, Gill's resume is far from blank.
According to his Buffalo biography, Gill has served as a United Way spokesperson, an honorary chairman for the American Heart Association, the American Red Cross and Cystic Fibrosis Foundation. He is active in the Fellowship of Christian Athletes and is a member of the American Football Coaches Association Ethics Committee.
Another player who shared the sideline with Gill offered sentiments similar to those of Frazier's.
"For the fans of Kansas, once they get to know him and get past that transition phase, people will start to get to know him as well as we know him up here in Buffalo," said Buffalo defensive lineman Dane Robinson, who finished his senior season in November. "I think he's dedicated to rallying the community. Not just the university."
On the field Gill has established a reputation as a program-builder. He pulled a once-moribund Buffalo program from 1-10 the season before he took over to 8-6 in his third year. In the two-season stretch including 2007 and 2008, Buffalo won 13 games — one more than it did in the program's first eight seasons as an FBS (formerly Div. I-A) team.
Asked about the ascension of the Buffalo program under Gill and the coach's potential at KU, Frazier used a familiar term.
Said Frazier: "Any time there's a coaching change, it takes patience. It depends on what kind of assistants he's bringing to the program. They were very patient with what he was doing at Buffalo. Kansas will be better off with him."
— Dugan Arnett contributed to this report.
More like this story on KUsports.com