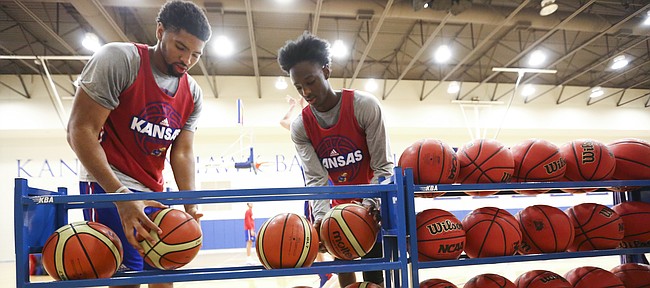 Two minutes into the first Kansas basketball media day of his career, freshman point guard Devon Dotson already had it down.
"We know that we've won 14 straight (Big 12 titles)," Dotson said in response to a question about the upcoming season, comfortably using the word "we" because he's a part of the family now. "Our goal every year is to win the Big 12 and just have a successful season, so every day in practice, we try to bring it 100 percent."
There is, of course, much more to playing basketball at Kansas than winning Big 12 titles. But given that Dotson was just 5 years old when the Jayhawks' current Big 12 title streak began, his comments about adding to it before he has ever played a game certainly qualify as notable.
Luckily for Dotson, there are a handful of players on this Kansas team who have been a part of the streak and/or have logged meaningful minutes at the college level.
One such player is junior forward Dedric Lawson. And even though Lawson is at the outset of trying to become a part of the KU streak himself, his experience from his playing days at Memphis already has proven valuable for the youngest Jayhawks on this year's roster.
"That's something coach really preaches to us," said Lawson of Bill Self emphasizing the importance of veteran leadership. "We've got new faces, a new mix of guys. Nobody's really played but Lagerald (Vick) and Udoka (Azubuike), and we're following Lagerald's leadership. He's doing a good job. Udoka doesn't really talk much, but he leads by example. You can respect a guy like that as long as he's putting in the same work that you're doing."
So where does Lawson land in the leadership equation?
"I try to just have my voice at practice, tell guys to do this or do that and break down the terminology from coach when other guys don't know what's going on," he said.
As one might expect, it's only natural for Lawson, who stands 6-foot-9 and plays the power forward position, to gravitate toward other players his size who are asked to do some of the same things he is. But in addition to lending a helping hand to freshman forward David McCormack whenever necessary, Lawson said he also has reached out to some of the younger perimeter players, most notably Dotson and Quentin Grimes.
"You know, college is different from high school," said Lawson when asked what type of wisdom he had passed along. "You do what you want to in high school. You're the best player on the team. But now, you're with 11, 12 guys on the same level as you, so you've got to learn your role and learn your niche to fit in with what's best for the team."
Perhaps better than anybody on this roster, Vick has shown throughout his first three seasons at KU that he understands exactly that. And just because he now has inherited a new role does not mean that anything changes. Vick, like so many on this team, is still searching for where and how he fits.
Asked Wednesday specifically about Vick's vibe since electing to return to Kansas for his senior season instead of leaving to turn pro, Self stuck with what he said back in July, shortly after Vick was back on campus.

"He's been a 10 so far," Self said. "There's no question about that."
And Vick's familiarity with his surroundings and the whole scene might be the reason for it.
The KU senior said Wednesday that he "definitely" was closer with Self than ever before and added that his knowledge of what works, what doesn't and how and why things click has made the transition from role player to lone senior a little smoother.
The younger players and newcomers are all still learning where they fit. But Lawson said, between Vick's experience and Self's willingness to communicate, everyone on the roster was making consistent strides in that department.
"Coach is a very straightforward guy," Lawson said. "He'll tell you what he expects out of you and what he expects from individuals and like a team. Yeah. You hear it often. He'll tell you. He'll let you know. He'll remind you every day."
---
• More news from KU Basketball Media Day 2018
Self, Jayhawks still sorting out 2018-19 rotation
Media Day Notebook: Chemistry, caution and early lessons all key for Kansas
Tom Keegan: Silvio De Sousa says, 'I know I am going to play this year'
Self declines to comment on testimony of former Adidas consultant who says he arranged cash payments
---