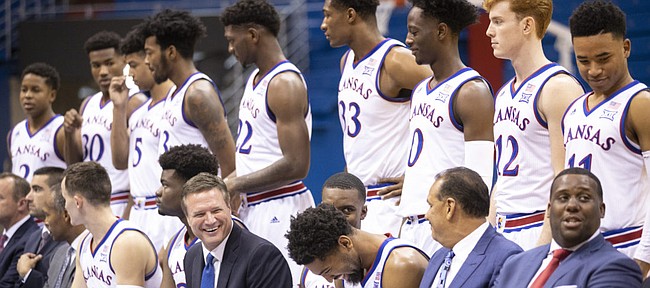 Practices began in late September. The first official game is now less than four weeks away. And Kansas basketball coach Bill Self still does not quite know how he will juggle all of that talent and depth the 2018-19 Jayhawks will bring to the floor this season.
That fact was one of the big takeaways from Wednesday's annual KU media day at Allen Fieldhouse, where the Jayhawks slapped on their suits and uniforms, smiled for pictures and met with a couple dozen media members about the upcoming season.
"I haven't even thought about rotation yet," Self said during a 23-minute news conference with media members Wednesday afternoon. "I'm not saying this would happen at all, so don't take it (to mean too much), but we don't even know how you play 12 (players).
"Do you try to potentially just play 10 and redshirt a couple? Do you try to play 11 and redshirt one? Do you try to play 12 and redshirt none?"
Those questions, and so many more, will be answered in the weeks ahead. And, in the eyes of Self, who is set to enter his 16th season in charge of the Jayhawks, finding the answers qualifies as one of those good problems to have.
"As long as there's separation by the time the season starts," he emphasized. "You need to have some separation so everybody can kind of see, if you're going to sub, even the reserves need to see that there's a little separation. 'Hey, I may get my 10-15 (minutes), but he may get his 25-30.' But when everybody thinks they should be playing 25-30, I think that can create some chemistry issues. So I'd like to see some separation."
After playing with a thin bench during the past two seasons, Self enters the 2018-19 season with an embarrassment of riches that includes former five-star prospects and prep all-stars potentially sitting on his bench.
While all of that talent and all of those options give Kansas plenty of potential directions to go with the rotation, Self admitted that, "seven practices in, or whatever it's been, I think it's just too early to tell."
With just one senior on the roster — guard Lagerald Vick — and a foursome of freshmen who Self on Wednesday praised for having the "highest basketball IQ for an entire class that we've had for a while," the KU rotation, whenever it is sorted out, figures to be a Swiss army knife of sorts, with Self being able to put any number of gadgets into use.
Wednesday, he elaborated on that thinking.
"I do think our players that are young are good enough that if they're playing five minutes a game or seven minutes a game, they would be much better, obviously, at age 23 than they are at 18," Self explained of the advantages of playing everybody. "But we haven't even got that far yet."
Take the point guard position for example. While most believe it is a battle between freshman phenom Devon Dotson and sophomore transfer Charlie Moore, — both in their first seasons of eligibility with the Jayhawks — Self explained that the quality depth on this year's roster and the learning curve that comes with the start of every season could throw a wrinkle into even the most obvious situations.
"You could make a case that (returning sophomore) Marcus Garrett could be our starting point guard," Self said. "You could make a case that Devon could or Charlie could. We could play ridiculously long or we could play two little guards at the same time."
Regardless of the way it all plays out, or when and how that separation Self seeks presents itself, the players who are competing day in and day out know there is one easy way to make sure theirs is a name that cannot be taken out of the rotation during the weeks leading up to the Nov. 6 season opener against Michigan State at the Champions Classic in Indianapolis.
"Just playing hard," Garrett said. "It's just not about scoring. I feel like that's what everybody probably portrays it to be. But I feel like Coach Self doesn't need everybody to score. He needs some people that can do the little things. That can give other players extra minutes, just by doing the little things and playing hard."

Added Moore, echoing Garrett's thoughts: "Being vocal, making plays for your teammates, make your teammates better and try to stay in attack mode at all times. I know we've got a deep team, everyone's competing every day, and when we do that, we'll just, as a team, form together and find out who should be playing."
---
• More news from KU Basketball Media Day 2018
Media Day Notebook: Chemistry, caution and early lessons all key for Kansas
Tom Keegan: Silvio De Sousa says, 'I know I am going to play this year'
Self declines to comment on testimony of former Adidas consultant who says he arranged cash payments
---