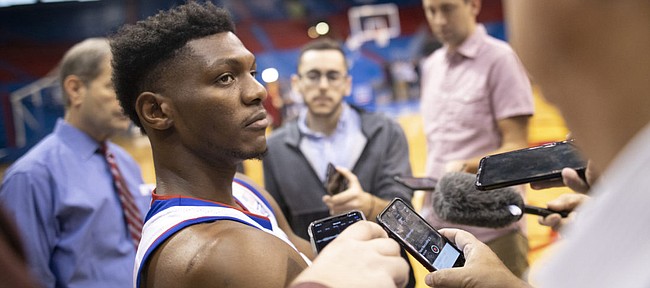 Silvio De Sousa was sitting in his assigned seat at Kansas basketball Media Day, fully decked out in his home uniform and sharing his delight at his sophomore season drawing closer.
"It's just super exciting knowing that I'm wearing a jersey that we usually wear for games," De Sousa said Wednesday afternoon. "And it just makes me feel like the season is about to start tomorrow. It's a great feeling knowing that the team is ready to go and everybody's just super excited about the season."
About a thousand miles to the east and a couple of hundred miles to the north, an Adidas consultant by the name of T.J. Gassnola, at right about the same time, give or take a few minutes, was testifying that payments were made to family members (a legal guardian in De Sousa's case) of five college basketball players, including De Sousa and Billy Preston, a pair of KU recruits.
Nobody knows yet if that means De Sousa's excitement about the upcoming season will be for naught in the event he is forbidden from playing another NCAA game, and the only one who said he knew was De Sousa himself.
"Well, I know I'm going to play this year, but right now, it's just time to focus on what I have to do, no matter what," he said.
And that is?
"Just work on my game," De Sousa said of the trial. "That's pretty much it."
A year ago, Kansas basketball coach Bill Self did not play Billy Preston, waiting for word from the NCAA, and Preston grew tired of waiting and headed overseas to play professionally.
Self made it clear Wednesday that Kansas won't blindly make any decisions regarding whether to play De Sousa.
"Our decision to play will be based on the facts that come out in correspondence with the NCAA," Self said. "So it's not going to be, 'What does Kansas do?' It's going to be what we think is the right approach to obviously try to get to the facts to determine what the situation really is."
De Sousa consistently brought the conversation back to working on improving his game when asked about the ongoing federal trial in which the government is attempting to prove that Adidas representatives defrauded universities by paying players who had signed letters of intent that spelled out their amateur status. The defense, in opening arguments, said it will show that the defendants actually helped the universities by paying players who helped the schools to make millions of dollars and did so with the knowledge of some basketball coaches.
"I'm not really focused on that," De Sousa said. "I might have to talk about it once the decision is over."
De Sousa said he still talks to his legal guardian, Fenny Falmagne, but that he has not visited him. Why not?
"I have stuff to do here," De Sousa said. "I am planning to be a pro, so I have to stay here. Where else am I going to have more time to work on my individual stuff? But I took two weeks off and went back home to Angola to spend time with my family. It was great. I think I just had to see my family, no matter how much time we had. It was really good to see them."
Self said that De Sousa's attitude has been "unreal, positive and he certainly appears, from all of our standpoints, to be playing with a totally clear conscience, which I think is positive, too. I know that he's been the center of a lot of things that have been said, and we understand that. But I do think he's been very positive in how he's handled this and it's probably made him grow up and mature quite a bit."
Self said he can't comment on what comes out in the trial as it's going on and added: "In the past, I've made a statement that we certainly believe, based on the information we had, that this thing would have a positive resolution, but that was also based on the information that we had. Who knows what could potentially happen in the next whatever period of time, but I'm taking the approach, as everybody is on our team, that we're going to have Silvio De Sousa playing for us this year."
---
• More news from KU Basketball Media Day 2018
Media Day Notebook: Chemistry, caution and early lessons all key for Kansas
Self, Jayhawks still sorting out 2018-19 rotation
Self declines to comment on testimony of former Adidas consultant who says he arranged cash payments
---