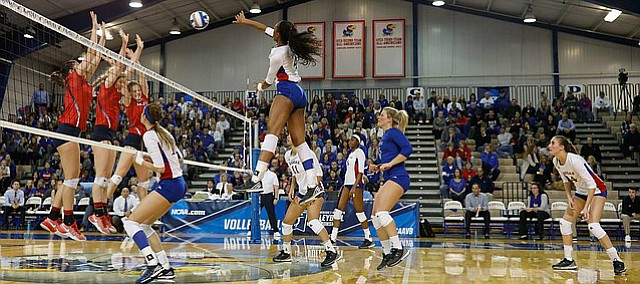 Ainise Havili, Kelsie Payne and Madison Rigdon were so talented they led Kansas to its first Final Four volleyball appearance as sophomores, when Laura "Bird" Kuhn was named national assistant coach of the year.
Last season was the final one at KU for all of them, as well as for assistant coach Todd Chamberlain, now filling a similar role at Louisville. Kuhn is Texas A&M;'s head volleyball coach.
Given all the pieces KU head coach Ray Bechard had to replace, this shaped up as an inevitable rebuilding year. And that's how it looked when the Jayhawks stumbled to a 4-4 start. Three of the losses came at home to unranked foes.
Now, look at the unranked Jayhawks.
They have won eight matches in a row, stand alone atop the Big 12 standings and are coming off of a 3-1 Wednesday night upset against No. 4 Texas at the spirited Horejsi Center.
"We beat a really good team," Bechard said after the match. "They've set the standard for a lot of years and we're trying to create an opportunity here to be competitive with them, and tonight we did that."
That outcome seemed unfathomable as recently as three weeks ago. Texas came into the match with four victories vs. ranked opponents.
How did KU improve so much so quickly?
"I just think, systemwise, offensively, we were kind of a mess," Bechard said. "You lose Havili, who set every ball for four years, it's like having the same point guard for four years and now, you know, it just takes time to get that sorted out."
Setter duties are shared by freshman Camryn Ennis, who also plays outside hitter, and senior Gabby Simpson, also a right-side hitter.

"As we shifted into getting more comfortable offensively, I think that's when everything took off," Bechard said.
His two assistants now are Billy Ebel, who came to KU after five seasons at Lipscomb University, and Maggie (Anderson) Bowen, a player on the Final Four team.
Junior outside hitter Jada Burse, a 6-foot-1 leaper extraordinaire whose personality seems more suited to a starring role than a complementary one, has the talent to excel against any level of college competition. It showed in the Texas upset.
For the final point of the match, Burse soared way above the net and put so much velocity on such a steep shot to the middle of Texas' side of the net that there was no way it was going to be returned.
"Jada took a really big swing to end the match," Bechard said. "She's been really good over the last few weeks. She still has some upside to her, but she made some special plays tonight."
In the fourth set vs. Texas, Kansas overcame deficits of 12-6 and 18-14 to win 25-23.
"You can say let's just cash it in and we'll go to the fifth and see what happens, or you can say, you know what? Let's put some competitive pressure on them. And we did that," Bechard said. "It's a lot easier to play ahead five or six points than it is when it's a one- or two-point lead, and when we finally got it to 18 all, then I thought we had a shot and we made enough plays in the end to do it."
Some of those plays were made by three freshmen: Ennis (30 assists), Rachel Langs (team-high six blocks, 13 digs) and Lacey Angello (six digs).
Simpson (20 assists, 10 digs, four aces) gave her input on the in-season strides KU has made.
"Playing consistent and keeping our composure when things start to go in the way of the other team," Simpson said. "We have to be able to sit back and say, 'It's OK, this happens. It's volleyball.'"
To the delight of the home crowd, for one night, Kansas did a better job of that than did Texas, which has a 5-1 Big 12 record and has defeated four ranked opponents, a half-game behind Kansas (5-0).
"Four of those five have been at home, and now we have the next four out of five on the road, so we'll see," said Bechard, ever mindful of the team not losing its edge. "Certainly, we beat some good teams here at home and we took care of our business at home."
KU resumes its schedule Saturday in Lubbock against Texas Tech.
"I told them we play Texas again Saturday," Bechard said. "There's a Tech at the end, but we need to prepare just like we did for this one. We were pretty laser-focused the last couple of days. Now, we might have a little bit of a target, taking over the Big 12 lead."
Nobody could have seen that coming.