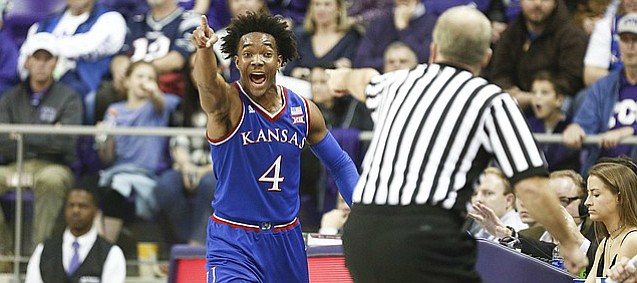 Fort Worth, Texas — When your team boasts just one regular season victory in the history of its program over the big, bad wolf from the conference, you tend to be more scared than excited about the traditional powerhouse coming to town.
But that was hardly the case for TCU basketball fans on Saturday, when the 10th-ranked Kansas Jayhawks came to town and topped the 16th-ranked Horned Frogs, 88-84, at Schollmaier Arena.
"It's more exciting because it's Kansas," said Jack Forbis, who sells concessions for King Korn at the arena. "I mean, when you think Kansas, you think college basketball. I don't think they've ever been horrible."
Although that certainly has been true during TCU's time in the Big 12 Conference — and, obviously, well before that, too — the Horned Frog fans in attendance on Saturday night were well aware of KU's recent struggles and, therefore, were a little extra excited about this latest opportunity to take on Kansas and try to add to the Jayhawks' issues.
"I don't know about Kansas this year," said TCU student Dylan Hawthorne, who, along with a few hundred other Horned Frogs, made his way to his seat well more than an hour before tipoff. "I'm not sure they're the same team they have been and they've already lost a couple of games in the Phog (Allen Fieldhouse), so we're ready for them."
Added TCU student Wade Schmidt, whose father went to KU: "I grew up a big Kansas fan, and this is different than anything I've ever seen."
Photo Gallery
Kansas basketball v. TCU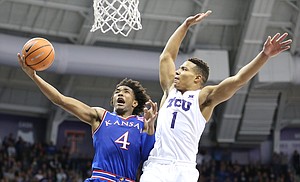 View a gallery of images from Saturday's game between the Jayhawks and Horned Frogs in Fort Worth.
That point of view was not limited to the students and fans inside Schollmaier Arena on Saturday night.
Geoff Craig, who runs the Rivals.com site PurpleMenace.com and also operates the in-house cameras for the video boards at TCU's home games, said he sensed a different feel all week.
"It's always big when Kansas comes to town," Craig said. "But this is the first time that I think the TCU fans are actually going to outnumber Kansas fans here. I don't think Kansas is necessarily down, I just think the rest of the Big 12 is catching up."
Trending upward vs. Top 25
Saturday's win over TCU improved the Jayhawks to 2-2 this season against teams ranked in the Top 25.
That record includes two home losses to then-No. 16 Arizona State and No. 18 Texas Tech and victories over No. 16 TCU and then-No. 7 Kentucky in the Champions Classic in November in Chicago.
KU coach Bill Self is now 84-43 at Kansas against teams ranked in The Associated Press Top 25.
Self's Jayhawks have collected four or more victories against Top 25 foes 11 times in his first 14 seasons at Kansas. With four other Big 12 teams currently ranked and No. 11 Texas A&M; also on the 2017-18 schedule, the Jayhawks figure to have plenty of opportunities to reach four or more victories against Top 25 teams this season, as well.
Kansas, which entered the week ranked No. 10 in the AP poll, has been ranked in the Top 25 for 169 consecutive weeks, the longest active streak in college basketball.
Jayhawks after losses
Saturday's victory improved the Jayhawks to 80-11 following losses in the 15-year Self era.
Even more impressive than that is KU's 30-3 mark in games after a loss since the 2013-14 season.
Kansas is now 2-1 this season after a loss, which has helped the Jayhawks avoid something that has been largely avoidable throughout Self's time in charge. KU has lost two in a row just six times in 15 years and only two of those six two-game losing steaks have expanded to three-game skids.
Although the Jayhawks dodged the bullet on Saturday, Self hardly thinks his Jayhawks are invincible.
"Everybody in the league is going to lose two in a row," Self said before the KU-Texas game in late December. "That's going to happen. The league's too good. How you respond to those negative performances will probably be very important."
This and that ...
Saturday's victory pushed KU to 12-3 for the ninth consecutive season, a streak that began in 2009-10 ... The Jayhawks are now 2-1 in Big 12 play and avoided falling to 1-2 in conference play for the first time since the 1990-91 season ... The Jayhawks now lead the all-time series with TCU, 15-2, including a 6-1 mark in games played in Fort Worth ... Self improves to 19-5 all-time against TCU, 12-2 while at Kansas ... KU is now 5-1 this season in games played outside of Allen Fieldhouse, with the lone loss coming to Washington at Sprint Center.
---
More news and notes from Kansas vs. TCU
---