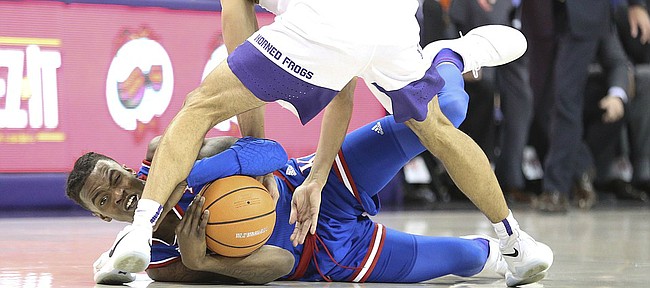 Fort Worth, Texas — Kansas coach Bill Self has been begging his team to be tougher and more competitive all season.
Saturday night at TCU's Schollmaier Arena, Self got his wish. And right away.
With the memories of a second home loss of the season just four days earlier fresh in their minds and the challenge of yet another Top 20 team on the docket, the Jayhawks jumped out of the gate with the kind of grit and grind that Self wants to see.
Was it perfect? Nope. But did the 88-84, hang-on-for-dear-life victory over No. 16 TCU completely flip the script from Tuesday's loss to Texas Tech and allow Kansas to play the role of the aggressor and dictate the way the game was played? Absolutely.
"I definitely feel like we were tough tonight," said senior point guard Devonte' Graham, who led all scorers with 28 points and got to the free throw line 15 times. "More tough than we were last game for sure, just playing together and wanting to win."
In Self's eyes, Graham was the leader of the pack in that department.
"He just didn't let us lose," Self said. "He was unreal down the stretch. That was a competitive dude playing down the stretch."
Photo Gallery
Kansas basketball v. TCU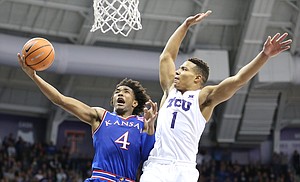 View a gallery of images from Saturday's game between the Jayhawks and Horned Frogs in Fort Worth.
It wasn't just the fact that the Jayhawks (12-3 overall, 2-1 Big 12) were the grittier team that mattered. In time, TCU joined them and started flashing some toughness of its own. In doing so, though, the Frogs took some chances and were forced to step out of their comfort zone while Kansas spent most of the first half playing smart, sliding into position on defense, staying away from stupid fouls and moving the ball to the right spots on offense and taking good, high-percentage shots.
The second half, which TCU won 50-46, was a different story. But it, too, featured the kind of typical KU toughness that has been hard to come by for this team.
That trait took on various forms and appeared in different ways and at different times.
There were big time blocks by Svi Mykhailiuk — of a breakaway dunk attempt, no less — and Mitch Lightfoot — on back-to-back possessions in the second half — and Graham, who scored a game-high 28 points, gutting out free throws and defensive possessions down the stretch despite serious pain in his right hip.
Even the pain was the product of KU's competitive spirit, as Graham picked the pocket of Alex Robinson with 2:07 to play and, instead of shying away from contact, went right at TCU's Desmond Bane in an attempt to finish the play. Graham was fouled hard on his way to the rim and came down even harder against the padding underneath the basket.
"I just landed on my butt wrong," Graham said, downplaying the pain.
There also were stretches where the Jayhawks' mental toughness served them well, none bigger than a second-half spurt, midway through, that turned a one-point, 50-49 KU lead into a 60-51 lead with 11:08 to play.
TCU (13-2, 1-2) managed to close that gap, too, and even took a couple of temporary leads late. But the Jayhawks, led by Graham, refused to step aside and simply made more winning plays than the Horned Frogs in the final few minutes.
"Toughness is a lot of things," Self said. "It could be physical, which we're not that. And it can also be mental. And I thought we showed some toughness tonight by getting behind, making some free throws late, making some plays late. We had two or three stops in the last couple minutes that were big stops. We did some things better in that regard but by no means is this a physically tough team."
Did the Jayhawks need the 3-point shot to win? Absolutely. Time and time again in the second half, with TCU crawling back into it, the Jayhawks responded by drilling a critical 3-pointer that maintained their cushion. Most often it was Mykhailiuk (20 points, 5-of-7 from 3-point range) or Graham (3-of-6 from downtown) who hit the key shot, but 3-point shooting (KU was 11-of-20 from 3-point range for the night) was not what won Kansas this game the way it did at Texas.
Being competitive did. And because of it, the Jayhawks staved off a scary slip into unfamiliar territory and will head home for Tuesday's game against Iowa State at 2-1 in Big 12 play instead of 1-2.
Self said the difference was significant but reminded the room that the conference race was still just three games old.
"You need to hold serve at home and when you don't, you have to go steal one," Self said. "And this was a steal the way I look at it."
Steal or not, 15 games to go or not, the Jayhawks, at least for now, reminded the rest of the conference on Saturday that the Big 12 is and has been theirs for the past 13 years and they're not planning on giving up control any time soon.
"Huh," grumbled Graham when asked if he sensed fans were expecting that this would be the year that KU's 13-year Big 12 championship streak ended. "No chance. Nah. Our fans? Maybe other teams. But I feel like that's every year that everybody doubts us and thinks, 'Oh, Kansas is not going to do it this year.' But we're a family, we stick in our huddle and we all believe in each other and ourselves and we just go out, night in and night out, and compete and hopefully at the end of the year it'll work out for us."
---
More news and notes from Kansas vs. TCU
---