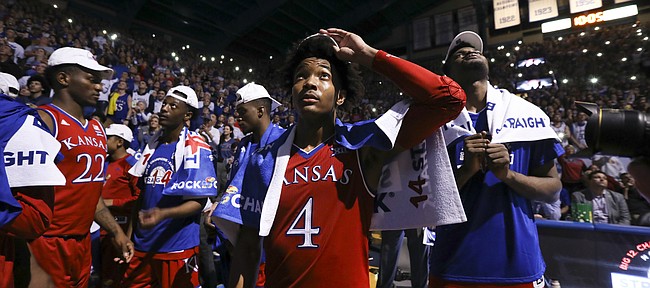 Kansas basketball coach Bill Self did not even attempt to hide his true feelings when asked after Monday's 80-70 victory over Texas how he felt about his team's unusual red uniforms.
"I'm not a fan of red," Self said matter-of-factly, before adding, "at all," for emphasis.
But Monday night was not about Self and his superstitious nature. It was about seniors Devonte' Graham, Svi Mykhailiuk and Clay Young. And at least one of those Jayhawks really wanted to wear red before his career was finished.
"Yeah, that was me," Graham said after tallying 10 points and 11 assists in his final performance at Allen Fieldhouse. "I think I saw a highlight of them wearing red and it just looked good. And I just asked coach if we could get them. I had to go through a little process. Go here, go here, ask here, ask here — and they said, 'Yeah, he would do it.'"
Reluctantly.
Self blamed both adidas and Graham for forcing the uniform change — in doing so, the KU coach referred to Graham as "Number 4" — and explained the thought process that went into wearing them on Senior Night.
"We didn't get them until after conference play started," began Self. "And I wasn't going to wear them and not play well because of our uniforms, obviously. This was the last game that we could do it, so we did it. I told him we better win."
It marked the first time since Dec. 31, 2011 that the Jayhawks wore red in an real game — KU also wore red in an exhibition win over Washburn in 2012 — and the fifth or sixth time overall during Self's 15 seasons in charge.
Self's squads have done well while wearing crimson — 84-58 winners over North Dakota in that New Year's Eve game in 2011 and 76-55 winners over Colorado State on Dec. 11 the year before — but even after Monday's victory, the coach who prefers white, blue or even gray to the bolder look of red did not sound like a man who was going to mix the brighter uniforms into the rotation on his own.
"Red hasn't really been great for Kansas over time," Self reminded. "The first time I think Larry (Brown) wore them was at the (1986) Final Four in Dallas," and KU lost that game to Duke, 71-67, when Danny Manning was a sophomore.
If we're being honest, it probably took a player of Graham's caliber to get the request for red to become a reality.
Self is not in the business of handing out favors to every player who has a crazy inclination. But for a player whom he called, "probably the most complete student-athlete that we've had since we've been here. Probably as good a leader and man as we've had here at Kansas," it seemed like a no-brainer to put the superstitions aside and let Graham have his moment.
"We played good on Saturday in Lubbock," Graham said. "And I asked him as soon as we landed if we could wear them for Senior Night and he said yeah and that we better play good in them."
That wasn't a joke. And Self made that clear after the 10-point victory and emotional Senior Night festivities.
"I thought we played so poorly the last 10 minutes of the game. We could've left out of here on a really high note if we had played better down the stretch. … I was glad that we were able to pull it out."
And even more glad that, with nothing but a road game and postseason games ahead, the red jerseys will go back on the hangers until another Devonte' Graham comes along.
---
---
---
---
More news and notes from Kansas vs. Texas
---