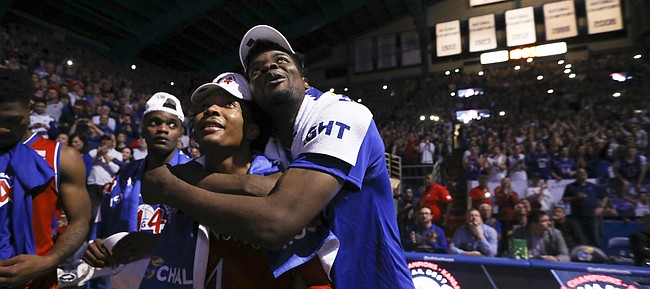 If last Saturday's victory over Texas Tech produced the celebration of the Kansas basketball team clinching an NCAA-record 14th consecutive Big 12 title — shiny new hats, water flying, Jayhawks jumping — then Monday's 10-point win over Texas at Allen Fieldhouse was the coronation.
Trumpets blared. Spoils were brought to the center of the empire. Banners and flags flew in the air.
The Kansas Jayhawks were once again kings of the Big 12 Conference and this night was reserved just for them.
Photo Gallery
Kansas basketball v. Texas (senior night)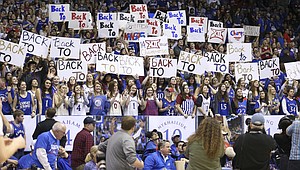 View a gallery of images from the Jayhawks' Monday night game against the Longhorns on Senior Night at Allen Fieldhouse.
Forget about the grind of the season or the ups and downs. Forget about the doubts, the depth, the questions, the cracks.
None of those things mattered on Monday. The Jayhawks had earned the right to catch their breath. And between celebrating yet another Big 12 title — like only Kansas knows how to do — and sending off seniors Devonte' Graham, Svi Mykhailiuk and Clay Young in style, Monday's shared experience between a team and its fan base was a welcomed break from the pressure cooker that this group has operated in all season.
"It felt good," Graham said after all of the festivities. "It's nice for the fans, we get to bring all the trophies out and watch the videos and soak it all in. For us, it was our last time so it was just special."
There was a time — perhaps several times — when a night like Monday was far from a given. And we're not just talking about the so-called experts, cynical fans or salivating haters. Even people associated with KU's program wondered quietly whether this team had what it took to keep the streak alive. Important people. Notable people. Confident people.
"Honestly, no," said KU coach Bill Self, when asked if, midway through the season, he knew his team would get to this point. "But I don't think it was midway through. I think it was two games in. Because I didn't feel it. And there's been numerous times during this conference season that I haven't felt it. But, when we haven't played well, we've had one or two guys step up in that particular game to kind of carry us or whatever it is. But we've played better here the last two-and-a-half weeks. There's no doubt about that."
It's funny. Because doubt turned out to be one of the biggest reasons for KU's about-face, transforming from a team that struggled to bring good energy and play with passion and purpose into the team that ran away with the Big 12 race during the past couple of weeks.
Heck, even Self at one point called this team the softest team he's had at Kansas and the Hall of Fame coach was still searching for the right buttons to push as recently as three weeks ago.
Graham talked briefly about this team's rough stretch during his Senior Night speech, saying the things he saw and read on the Internet about these guys not being worthy of wearing the Kansas uniform fueled him — and them — to be better.
"I don't know if everybody saw that," Graham said of the harsh messages from KU's critics. "But I saw it. And it just put a little chip on my shoulder and helped me go out and lead better and want it more. I know we all wanted it, obviously, but I think the negative comments and seeing people doubt us definitely made us have a chip on our shoulder.
"We all like to compete or we wouldn't be at this level playing. Being called soft is not something you want to be called, so obviously you're going to change that and we had to change it as a team. Coming out not having energy, that kind of stuff, that's kind of being soft. We just looked at each other eye to eye and said, 'We have to change.' And we did."
It's funny how motivation can do that to a team. And now that the Jayhawks have accomplished the first of their long list of goals, the idea from here on out is not to change but to build.
This Kansas team, all of a sudden, is playing with the kind of confidence that so many of Self's better teams from the past played with down the stretch. Graham deserves the lion's share of the credit for that, but Mykhailiuk, Self and KU's getting-stronger-by-the-day supporting cast deserves praise as well.
"Losing at home, our backs against the wall, coach Self challenging us saying this is the softest team ever, things like that. … I think you can tell a lot from our team this year because, when our backs were against the wall, he sat us down and he was like, 'We can do this, we can win the next six games and win a Big 12 championship. It just depends on us and whether we want to do it and come together as a team,'" recalled walk-on Clay Young.
The Jayhawks (24-6 overall, 13-4 Big 12) have done just that. And the challenge now is finding a way to ride this hot streak for a few more weeks.
Starting by clinching the Big 12 crown outright was a good first step and it's clear that it meant something to these guys to win it with room to spare. But it's also clear that
"It's definitely great not sharing the title and we've just got to keep moving forward and think about the NCAA Tournament," said Mykhailiuk before his good friend and teammate stepped in to correct him.
"No, no, no. We've got to think about Oklahoma State," said Graham, thinking ahead to KU's next opponent in Saturday's regular season finale in Stillwater, Oklahoma.
"Yeah. Oklahoma State," added Mykhailiuk.
And with that, the coronation was complete. Back to the grind for sixth-ranked Kansas. Back to their pursuit of more reasons to celebrate.
---
---
---
---
More news and notes from Kansas vs. Texas
---